With 10 million units sold in the launch month, the Galaxy S6 isn't the sales growth driver Samsung wanted
99+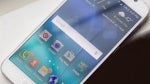 UPDATE
(Tuesday, May 26, 2015 03:05 CDT)
: Samsung's mobile chief J.K. Shin denied the original report, saying "(The news reports) are incorrect."
With all the well-deserved appraisal the Galaxy S6 & edge acquired from almost everybody who's had an opinion on them, you'd think Samsung would be selling them like hotcakes! Especially since the company boasted about exceeding sales expectations and having to open an additional display factory to meet S6 edge demand. We also saw all the excited people
lining up outside stores to get it
. Surprisingly, the situation may turn out to be not so winning for Android's high-performance athlete. How so?
Well, going back in smartphone sales olympics history, we see it took Samsung 25 days to ship 10 million units, while the elderly Galaxy S4 won the 10M trophy in 27 days. The Galaxy S6 duo, though? It took a month to sell a combined 10 million of it, which is a disappointing lack of growth considering how much the product improves on its predecessors. The anemic launch window performance, the time where sales are supposed to hit their peak, puts a veil of doubt over the company's hopes of selling at least 70 million units by year's end, as achieving this target proposes sustained monthly sales of about 8.6 million units until December. This means selling more of the smartphone each month than smaller competitors such as HTC and Sony sell in a whole year.
2015 isn't shaping up as the year of financial recovery Samsung hoped it would be.
It's a big world out there, but the high-end smartphone market is already saturated, which brings the question of whether heavyweight marketing alone could create so many new GS6 takers? We can't say "no" for sure, but we're certainly thinking "no". Moreover,
the upcoming Galaxy Note 5
is sure to have some cannibalizing effect on GS6 sales after its launch, not to mention there are already customers passing over Sammy's readily available hero phone in favor of the unannounced phablet.
Considering these factors, and the overwhelming difficulties foreign brands face when breaking into the vast Chinese and Indian markets, dominated by local brands and disrupted by inexpensive high-end models, 2015 isn't shaping up as the year of financial recovery Samsung hoped it would be. Unless something completely unexpected happens to change Samsung's mobile sales trajectory, the company may have to rethink more than just the design and hardware innovation aspects of its handsets.
source:
Yonhap News
via
Forbes
,
KoreaITTimes