Carrot Fit will bad-mouth you if you don't lose enough weight
2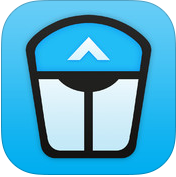 Carrot Fit is not your usual weight-loss app. It isn't kind and polite to you. It doesn't try to motivate you with inspirational quotes by famous people. Instead, Carrot Fit refers to you as a "meatbag" and makes fun of your obesity. Carrot Fit is an often judgmental, rarely gentle, and sometimes even pitiless talking weight-loss coach that doesn't care if it actually hurts your feelings.
Carrot Fit's decription in iTunes states that it is a "sadistic AI construct with one simple goal: to transform your flabby carcass into Grade A specimen of the human race". The app requires you to input your weight at least once a day and then judges your progress. You can set a goal weight and Carrot Fit will keep tabs on your advance towards it. If you have succeeded in melting off a pound here or there, the app might half-heartedly congratulate you by advising you on your next workout, sharing a cat fact with you, or even giving you a "permission to watch your friend eat a bag of potato chips".
But if you haven't lost any weight, or even worse – if you have actually put on some mass, Carrot Fit's will unleash its anger towards you. The app has about 2,000 different humorous phrases in store, and it will try to insult you or diminish your self-esteem with any of them.
Carrot Fit also allows users to check their BMI (body mass index) and see if they are still classified as obese. In addition, the humorous weight-loss app can set daily reminders so that you never miss a workout. Future updates to the judgmental virtual coach will include more features, such as the Deathmarch 5K and the 6-minute Workout fitness modules.
Currently, you can get judged by Carrot Fit only on iOS devices. Thanks to the launch sale, this will cost you $1.99 and most probably some humiliation. Sadly, there's no word when the sadistic AI coach would arrive on Android devices.
Download: Carrot Fit (
iOS
)
via:
Mashable