Carriers sell most iPhones, Best Buy selling almost as many as Apple Stores
5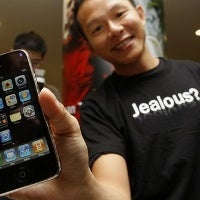 The iPhone is clearly the best selling single device on the US market today registering 37 million sales in the last quarter of 2011 alone, but where are those sales coming from? Turns out the majority of sales come from the carriers rather than Apple Stores or other big-box retailers. Not a huge surprise, but still it's interesting to see the statistical data gathered by Consumer Intelligence Research Partners (CIRP).
The research company surveyed buyers in December 2011 and January and February this year. Interestingly,
retail stores were the most popular place
to purchase a phone with a share of 76% of all iPhone sales throughout the period while the remaining 24% of purchases were made online.
When it comes to breaking down the brick-and-mortar store sales, the US big two carriers took the lead, followed by Apple and Best Buy who sold almost an equal amount of iPhones. Here's the breakdown by stores and carriers:
Verizon -- 30%
Apple -- 15%
Best Buy -- 13%
Sprint -- 7%
The remaining 3% are marked as others and include retailers such as RadioShack that also sell new iPhones.
Overall, it's clear that despite the small number of Apple Stores, they are extremely effective in selling iPhones and sell more than the much more widely spread Best Buy. Where would you buy your iPhone from?