Carphone Warehouse inventory snapshot reveals "V3" iPhones
2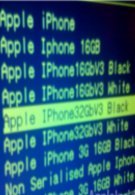 More news about possible new iPhone models have been revealed by a tipster on AppleInsider. There is a snapshot of Carphone Warehouse's inventory system displaying four iPhone models titled "V3" after each name. As we first revealed from a tipster, Best Buy had the codename Project Charlie for three SKUs which were speculated as the new iPhone models. The consumer electronics giant partnered with Carphone Warehouse in forming Best Buy Mobile over here in the United States. The placeholders from the inventory shot shows both a 16GB and 32GB models available in either white or black. So it's yet another good indication that Apple is on the ball in getting these devices out to various retailers in time for launch day. With WWDC just around the corner, everyone will probably be expecting more concrete information.
source:
AppleInsider
The new iPhone is now officially announced - you can check the
Apple iPhone 3G S Specifications here
.