Can't uninstall an Android app? This could be your problem
37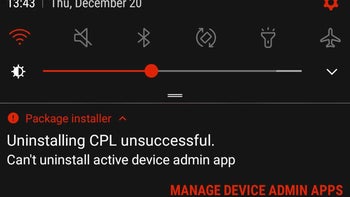 How to uninstall apps on Android that won t uninstall?
Downloading an Android app is usually a straightforward process – you find it at the Play Store, hit that green "Install" or "Buy" button, and wait for the process to complete. Uninstalling software is not a complicated task either. Yet sooner or later, an Android user encounters apps that refuse to be removed, and dealing with the issue requires knowledge that an average Joe does not possess. That's why we thought we'd shed some light on the matter.
In most cases, it all boils down to one of these two scenarios:
Possible cause #1: The app is set as administrator
You see, not all apps are made equal. Some require little to no special privileges, while others need access to certain functions and databases on your phone in order to work properly. Some even require administrator access – apps that do can set passwords, lock/unlock the phone, track its location, and lots of other neat stuff. In the latter case, you won't be able to uninstall an app without revoking its administrator access first.
To disable an application's administrator access, go to your Settings menu, find "Security" and open "Device Administrators". On Samsung devices, the features is tucked away within "Lock Screen and Security" > "Other security settings". If you can't find the option yourself, use your phone's built-in search function in the Settings menu. See if the app in question is marked with a tick. If so, disable it. Now go to your apps manager – the application should now be uninstallable.
Possible cause #2: The app is bloatware or part of the Android system
Bloatware is an issue that millions of phones are affected by. That's the collective name for the (usually superfluous) software that carriers and manufacturers like to pre-load on their devices. In most cases, these apps can't be uninstalled as they're labeled as part of the operating system.

You do have several options, however. One of them is to disable the app in question. This turns it off and prevents it from wasting system resources other than storage space. This is done from the app manager in the Settings menu - see if the app gives you a "Disable" or "Turn off" option. To enable the app at a later time, swipe to the right-most tab in your app manager.
You should also know that having root access makes it possible to uninstall any Android app, even those that won't uninstall under normal circumstances. Here's our guide on
uninstalling Android bloatware
on rooted devices.