Camera lens attachments: here are some of the best choices out there
3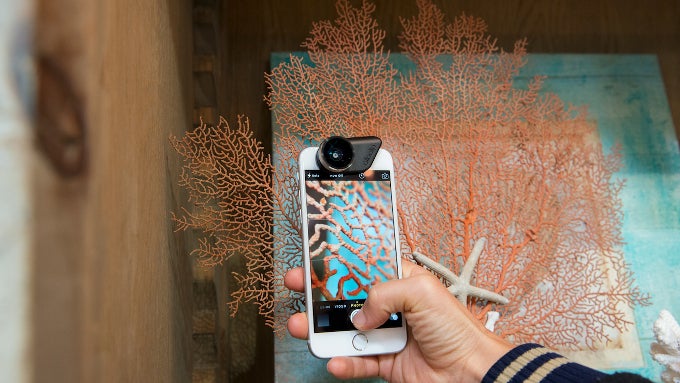 A decade ago, it was common to spend money on a consumer-grade camera, and then have to remember to charge it and bring it along at special events, if you wanted to capture some memorabilia. Very rarely would you see someone carry their camera around at all times, just in case something worthy of a shot happens.
Now, "we're living in the age of cellphone cameras" — a famous vampire from a long-forgotten PC game used to say — everyone has a snapper in their pocket, free from the need to carry a bulky device for the sole purpose of capturing pictures. In fact, smartphone cameras have been getting so good that some professional photographers even do a session or two with just a phone. Sure, it may be an experiment, but the fact is that many phones out there can achieve a lot better results than your average, consumer-grade camera of yesteryear.
Still, smartphone snappers are still fairly limited in that you don't have much control over their lenses. You are stuck with what the manufacturer decided was best, which is not interswitchable, like a DSLR camera's lens modules are, you have no optical zoom choices, and your macro capabilities are usually not the best. But that's nothing some external lens clip-ons can't fix!
Lens attachments have been around for a while, most prominently for the iPhone, but there are some universal solutions out there. We decided to dive in the Internet and fish out some of the best photo lens attachments you can buy right now. Here's what we came up with!
Olloclip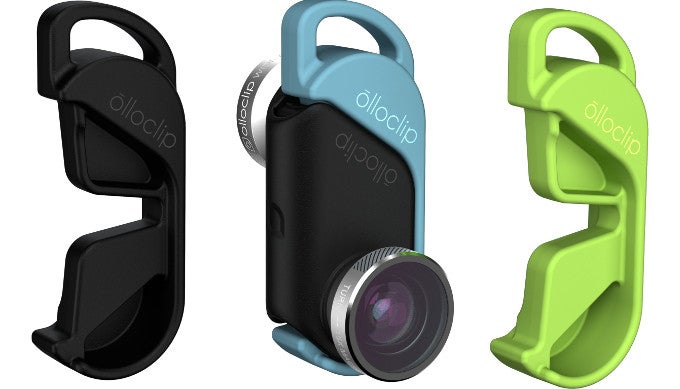 Pros
Snug-fitting, secure design
Lots of lens options
Cons
Only fits iPhones and a couple of old Samsung Galaxy models
These are probably among the most famous lens clip-ons out there. They are known for a wide portfolio of lenses, but, unfortunately, since their clip-on moulds are made to spec, they can only fit on iPhones. The company did try to launch a line for Samsung's Galaxies, but, currently, you can only find models for the Galaxy S4 and Galaxy S5 on its website — we'll have to wager that the project was dropped some time ago.
However, on the Apple product side, you can get an Olloclip for pretty much any active iDevice out there right now – the iPads, iPhone 4 up to iPhone 6s Plus, including the offshoot iPhone 5c. And there is lots of variation — you can grab a 4-in-1 set for $79.99, which is kind of a starter pack that has fisheye, macro 10x, macro 15x, and wide-angle modules. Or, you can go with some of the more specific choices, such as the Active Lens ($99.99), which offers an ultra-wide angle and 2x telephoto module, or the Macro Pro Lens ($69.99), which has three macro modules, the biggest one reaching 21x magnification!
Additionally, the company's website offers iPhone cases, which have special cutouts for the Olloclip modules. However, you don't need a case to be able to use the lens clip-ons – these are just offered as an afterthought, for people who would rather have a case on their iPhones at all times and will need one that allows Olloclip attachment without removing the case.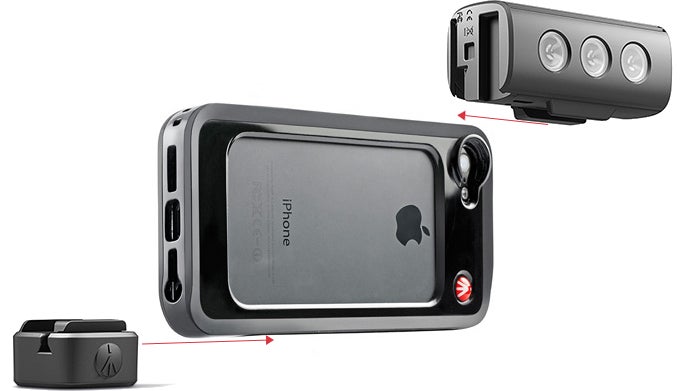 Pros
Protective case
Tripod mount and LED light modules
Lots of lens options
Cons
Only for the iPhone
Collecting modules can get costly
Another company that specializes in iPhone-only accessories, Manfrotto's product is more of a modular case. Once you have your iPhone safely packaged inside what looks like a pretty safe bumper, you have the choice to outfit it with one of the many separately-sold lenses – telephoto, wide angle & macro, fisheye, portrait, polarizer. But the case does more than that.
Besides lenses, we've got some more modules to pick from. The case does come with its own kickstand, which is obviously great for timelapses or taking selfies with a propped-up smartphone. There is also a triple-LED flash module, which will shine a blinding light in every dark situation, giving your phone's camera a chance at taking a much better photo.
Manfrotto also has a proprietary camera app, which allows you to manually control exposure and focus, go into stop motion or time lapse mode, as well as activate the camera shutter by clapping your hands (we'd keep it off in the middle of an applauding audience, though).
Collecting all modules can get quite costly, however, with the case costing around $50, and lens modules being between $25 and $50 a piece. A set we found on Amazon, which includes the bumper case, LED light, tripod mount, and 3 lens attachments (wide angle, fisheye, portrait) costs $300. Ouch.
Mpow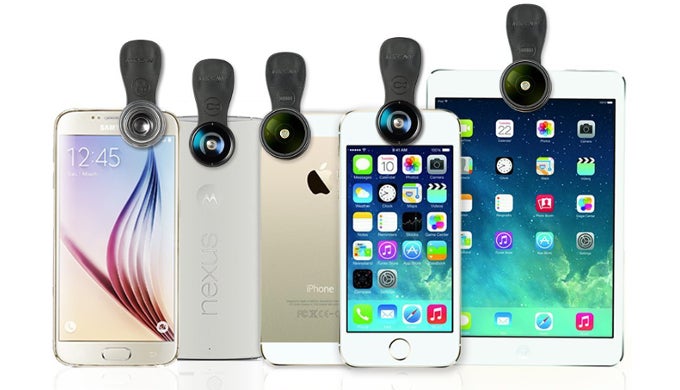 Pros
One-size-fits-all design
Affordable
Cons
Limited choice – fisheye, wide angle, and macro
"Clothes peg"-like design is a bit clunky
Now we're getting in the area of universal lens attachments. Company Mpow offers a range of clip-on units that can easily fit almost any smartphone in the market right now. These are much less snug-fitting, some looking more like clothes pegs than smartphone attachments, but thanks to their design they are easy to put on and take off, and they fit various shapes and sizes.
Mpow's portfolio holds 180-degree super fisheye, 0.36x wide angle, and 10x macro lens units. They are also pretty affordable, with the 3-in-1 pack costing $25.99 (or $13.99 for the old model on Amazon), and its most expensive module — a wide angle / macro lens 2-in-1 — costing $42.89.
Photojojo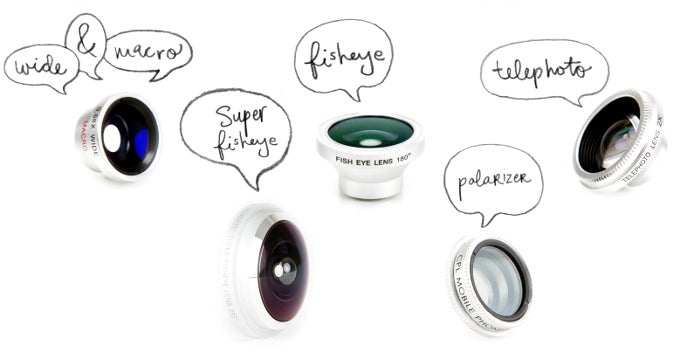 Pros
Fits many different smartphones
Magnetic for easy-on, easy-off operation
Lots of lens options
Cons
A (removable)metal ring needs to be glued to your smartphone
May not fit specific camera shapes, or may obstruct LED flash
Photojojo takes a different approach to slapping a lens on your smartphone's camera. Instead of having a clip-on or a case to attach it to, you are provided with a metal plate, which you have to glue around your device's camera opening. The lens modules are magnetic and you just place them on top of the snapper whenever you need them, then pull them off when you're done.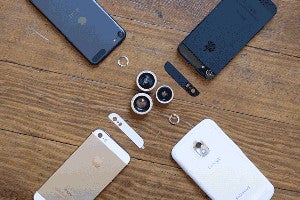 When buying, you've got to choose your phone model from a drop-down menu. iPhone owners will get a metal plate, which perfectly fits the top portion of their phone's rear, with cutouts for the camera and LED flash. For any other device, you will get a metal ring, to be fitted directly on top of the handset's camera opening. This is not ideal, since some protruding camera modules' shapes may not work well with a ring plastered on top of them, and other cameras, which have their flash positioned really close (or have a "flash ring") may have it entirely blocked by the ring. So, keep that in mind if you are planning to order one of these.
Photojojo's portfolio includes a polarizer lens, wide angle/macro lens, tele lens, and super fisheye lens modules.
SKINA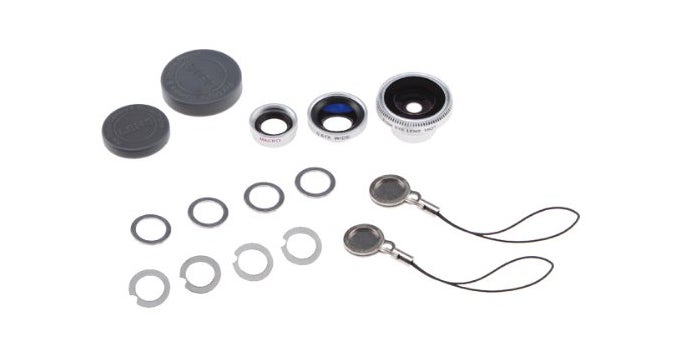 Pros
Cheapest option
Fits many different smartphones
Cons
Limited choice of lenses
A (removable)metal ring needs to be glued to your smartphone
May not fit specific camera shapes, or may obstruct LED flash
Don't know if this whole "attachable lens" thing is something you are willing to commit to with lots of cash? Well, dip your toes in with this $2.93 package instead. The SKINA 3-in-1 package works like the Photojojo magnetic modules – you have to stick a metal ring around your phone's camera, then just magnetically snap the lens attachments to it whenever you want to use them.

The package has a wide lens, macro lens, and 180-degree fish eye modules to get you started.