CDMA2000 1x Advanced tested by ZTE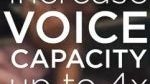 ZTE, the Chinese telecommunications equipment provider, is now the first to successfully test the new CDMA2000 1x Advanced. The new CDMA upgrade will effectively quadruple the voice capacity of current
CDMA
networks.
CDMA2000 1x Advanced is utilizes new technologies like 4th-Gen Vocoder, Interference Cancellation, and Mobile Receive Diversity/Radio Link Enhancements, all of which add up to a more efficient CDMA system as well as improved call quality.
Li Jian of ZTE assured customers and carriers that their existing CDMA systems will be preserved: "The existing investment can be protected to the maximum, as only the 1x channel card needs to be replaced."
Aside from voice calls CDMA2000 1x Advanced could also free up space for improved data services. It is unlikely, however, as
Verizon
and
Sprint
both have
4G services
that would make a new CDMA data stream redundant.
ZTE has announced that they will debut the CDMA2000 1x Advanced in the first quarter of 2011. This move will likely further improve their position as the largest CDMA equipment provider.
Below is a video from
Qualcomm
, explaining how the new CDMA technology could affect networks, and what types of equipment options will be available to carriers.
source:
BusinessWire
via
IntoMobile
Recommended Stories