FCC fines Verizon $25 million
15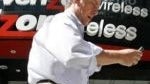 Verizon Wireless
recently got into hot water over
fraudulent charges
on their customers' bills. Original estimates valued the fraudulent charges at over $90 million, affecting 15 million customers. The damages have now been reassessed at $52.8 million, but the FCC is still bent on sending a message.
The FCC announced that
Verizon
will pay them a fine of $25 million. Keep in mind, this is on top of paying back the affected customers. FCC chairman Julius Genachowski also confirmed that this is the largest fine in the agency's history. To offer a point of reference, the FCC fined CBS $550,000 for Janet Jackson's clothing malfunction at the Super Bowl.
Genachowski offered the following: "People shouldn't find mystery fees when they open their phone bills and they certainly shouldn't have to pay for services they didn't want and didn't use. In these rough economic times, every $1.99 counts."
As the FCC is
cracking down on 'bill shock,'
it follows that they would want to nip any carrier-conniving in the bud. This fine will send a firm message to any carrier looking to get creative with their billing.
source:
Reuters
via
Gizmodo