By 2016, tablets will overtake notebooks, iOS will still dominate
15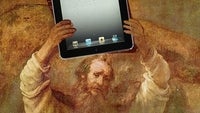 The
rise of the tablet market might have slowed down quite a bit
in the year's first quarter, but in the long run, tablet adoption is expected to rise substantially. In fact, the number of tablets shipped will exceed that of shipped notebooks in no more than a few years, according to
NPD DisplaySearch
. Some 424.9 tablets are to be shipped in 2017, predicts the research group, which will be an increase of more than 500% when compared to figures from 2011. Furthermore, the analysts expect a total of over 184 million units to be shipped in 2013 alone.
The increased consumer interest in tablets should not be much of a surprise to people that keep a close eye on trends. The variety of tablets available on the market is on the rise, and users can do more and more with them nowadays. At the same time, there now seem to be decent tablet offerings suitable for every budget. No wonder that consumers are increasingly becoming less interested in affordable notebook computers and prefer going with a tablet instead.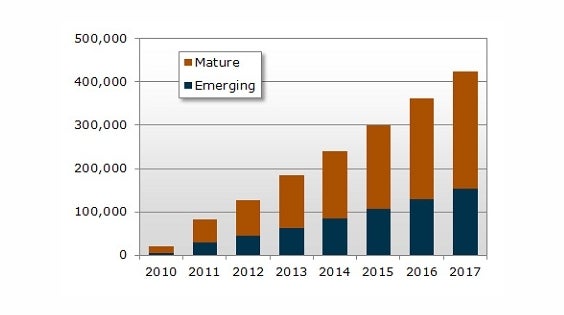 Tablet shipments estimate by NPD DisplaySearch
As far as tablet platforms are concerned, the supremacy of iOS should hold up through 2013. However, the iPad market share will start declining afterwards, according to the research. Half of all tablets shipped in 2017 will be made by Apple, about 40 percent will run Android, and the rest will be mostly Windows based slates, predicts NPD DisplaySearch.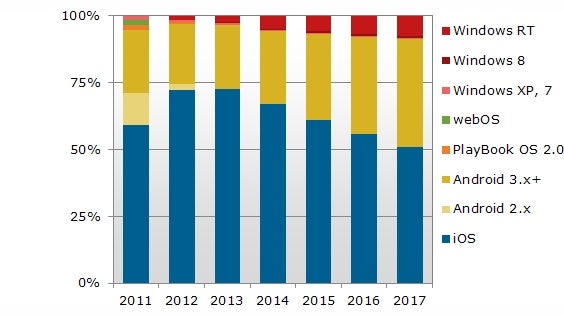 Tablet platform market share estimates by NPD DisplaySearch