Buy your 'Berry from ShopBlackBerry or Amazon and didn't receive 10.3.1? Here's a trick to try
7
Did you purchase your BlackBerry 10 handset from ShopBlackBerry or Amazon and fail to receive the update to BlackBerry 10.3.1?
BlackBerry 10.3.1 brings such useful tools
as BlackBerry Assistant, BlackBerry Blend and new features for the camera. The problem is that some phones purchased from the two aforementioned online retailers are not receiving it.
Sure, you can drown your sorrows by heading out to the nearest bar and sinking a few pints. But all that will accomplish is leaving you without BlackBerry 10.3.1 and making you drunk. But there might be a way to coax the update out manually. Here is what you do, according to a tweet from BlackBerry product manager Michael Clewley. Turn the power off your phone, remove the SIM card and turn on the device using Wi-Fi only. Check to see if the update has arrived on your handset. Turn the power off again, reinsert the SIM card, and continue.
This is not a perfect fix because it doesn't work all of the time. But it just might bring you BlackBerry 10.3.1 and BlackBerry Assistant, which we know you're dying to try. Give it a shot and drop us a line to let us know if it works.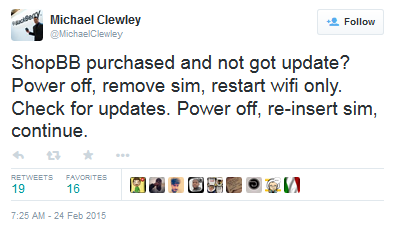 Try this tip if your BlackBerry 10 device didn't receive the 10.3.1 update
source:
@MichaelClewley
via
Crackberry