Buy a Lumia WP8 handset from Nokia's US stores, claim a Monster Purity headphones holiday gift
10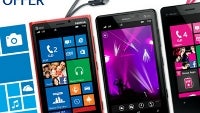 Not only is Nokia engaged in a price war with HTC over the new crop of Windows Phone 8 handsets for quickly gaining market share, but it is also throwing in free accessories to sweeten the pot.
After AT&T customers of the
Lumia 920
got a free charging pad deal, now all fans who buy a Nokia Lumia 920 or
820
from AT&T, a
Lumia 822
from Verizon, and a
Lumia 810
from T-Mobile between November 20 and December 31, can claim a free set of quality Monster Purity headphones.
The gift is set as a mail-in rebate that requires the typical cutting of UPC barcodes and mailing stuff, but in the end you'll get a free pair of buds that go for $90. Here are the official rules:
Once a Submission Form is completed, consumers must submit in one mailing envelope: (1) the completed Submission Form, (2) original or copy of sales receipt showing purchase price and store, dated between November 20, 2012, and December 31, 2012, and (3) original or copy of UPC and barcode
panel from the eligible Nokia Lumia device package to: Nokia Holiday Headset Offer, 4228 N Central Expressway, Suite 200, Dallas, TX 75206. Claims must be postmarked by January 16, 2013, and received by January 31, 2013. Documentation postmarked after January 16, 2013 or received after January 31, 2013 will not be accepted.
Unfortunately, Nokia's Media Relations VP Doug Dawson clarified that those "participating retail stores" are actually Nokia's own eight stores in the US, not any carrier shop: "
We are very pleased by the positive response to our Lumia range in the US. And I agree, there are some great holiday deals to be had. However, this particular promotion is an exclusive offer available only through our 8 pop-up stores in the US. We apologize for the confusion.
"