Burg Watch Phone brings along basic functionality to your wrist for under $200
7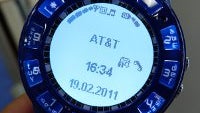 Let's be serious here, wouldn't it be cool to be like Dick Tracy and sport some kind of
watch phone
on your wrist? Well, we've seen some
respectable manufacturers
already that offer their own one-of-a-kind watch phone, but the problem with them is the fact that they're mainly too expensive to purchase – thus, limiting its proliferation from drastically going mainstream. Interestingly enough, we managed to take the time during CTIA to check out one intriguing watch phone from a company called
Burg
.
So here's the lowdown with this so-called watch phone, it actually works like a normal basic phone – with features like a built-in speakerphone, physical dial pad, and text messaging all on board with it. Obviously, its functionality harkens back to those early days when calling and texting were the base necessities of users. However, one of the biggest drawbacks to Burg's watch phone is that they're bulky looking, short battery life, and simply childish looking. Nevertheless, it's a GSM enabled device that accepts your SIM to place/receive both phone calls and text messages. And if you happen to look closely, the outer dial of the watch is used for the phone's physical dial pad.
Naturally, we had to place a test phone call to see if it actually works, and surprisingly enough, it does it very well. Of course, the noisy atmosphere of CTIA drowns out its built-in speaker, but there are higher end models that feature Bluetooth to enable users to converse through their own headset. Trying it very best to look like a premium watch, other higher end models have some better looking wrist bands that are interchangeable – as opposed to the cheap plasticy one we checked out with the base model.
Talking to the Burg representative at hand, he mentions that the Burg watch phones start off at
$199
, but after taking a quick look online, you can find them through places like Amazon for a mere $75 – though, they appear to be older looking models. So yeah, if you don't mind having something that's obtrusive looking on your wrist or limited in functionality, then you might fancy in picking one up to impress a handful of friend. Then again, you can put that hard-earned money to a shiny new smartphone of some sort.