Bronze sculpture of Steve Jobs to be cast in Budapest
9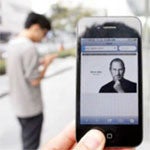 Hungarian software company, Graphisoft, wants to immortalize the famous mock turtleneck by erecting a bronze sculpture of the late Steve Jobs in the capital city of Budapest.
Gabor Bojar, Graphisoft's founder, met Jobs at an information technology trade show in 1984. His company was presenting a three-dimensional design program called ArchiCAD on Apple's Lisa computer. Jobs ended up offering funding to the company and assisted Bojar with distribution of his software.
Hungarian sculptor, Erno Toth, is creating the sculpture. The piece is almost 7 feet tall and weighs approximately 485 pounds. Toth's project shows Jobs in a mock turtleneck, jeans and sneakers, with rounded glasses and well-trimmed stubble. The sculpture shows Jobs with one arm outstretched and the other holding an iPhone. The memorial plaque that accompanies the statue will be shaped like an iPad and read, "
The only way to do great work is to love what you do.
"
The statue will be displayed in Graphisoft Park, which is home to several high-tech businesses in Budapest, Hungary.
source:
Times of India
via
SlashGear