Report seconds previous rumor: No headphone dongle will come in the box with the 2018 iPhone models
57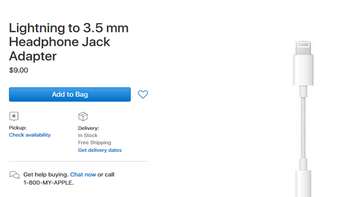 Back in April, a report from banking and securities house Barclays said that
the 2018 Apple iPhone models would come without the Lighting to 3.5mm headphone jack dongle
in the box. According to a new research report from Barclays, Cirrus Logic, the company that supplies the dongle, confirms that the accessory will not be packed in the box with the three new iPhone models that will most likely be unveiled next month. Barclays' research note, issued after Cirrus Logic reported its quarterly earnings, said "Cirrus didn't update its FY19 guide… but they did finally confirm the dongle loss, adding more support for our below estimates."
The dongle is currently included with the
Apple iPhone 8
,
iPhone 8 Plus
, and
iPhone X
. But if you want the adapter to use on the brand new iPhone that you're planning to buy before the end of this year, you will probably have to go to the Apple Store and purchase it separately for $9. It is also offered for sale at Best Buy where it is the retailer's second largest selling Apple product.
If the report turns out to be true, we wonder why a company worth a trillion dollars would risk what could be a public relations disaster, and not include a $9 accessory inside the box of a phone costing anywhere between $700 and perhaps $1,400.

source: MacRumors