Breaking Bad's Jesse discovers the sassy side of Siri
6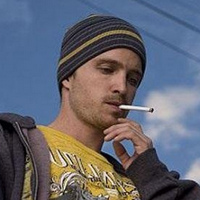 Aaron Paul, who portrayed the sidekick of meth Kingpin Walter White on
Breaking Bad
, has discovered a sassy side to Siri. If you have iOS 8 or higher on your iPhone or iPad, ask the voice-activated virtual personal assistant what the answer is to
zero divided by zero.
There really is no valid answer to this problem since it cannot be solved.
Instead of simply replying that the question cannot be solved, Siri uses an analogy involving the Cookie Monster. At the end of her little story, the virtual assistant gets in a little dig, no doubt annoyed that she is wasting her time on an unsolvable equation.
"Imagine that you have zero cookies and you split them evenly among zero friends. How many cookies does each person get? See? It doesn't make sense. And Cookie Monster is sad that there are no cookies. And you are sad that you have no friends."-Siri's response when asked to solve '0 divided by 0'
Check it out yourself. Just remember to thank Jesse Pinkman for discovering and passing along this interesting little look at a side of Siri that Apple usually keeps out of the public eye.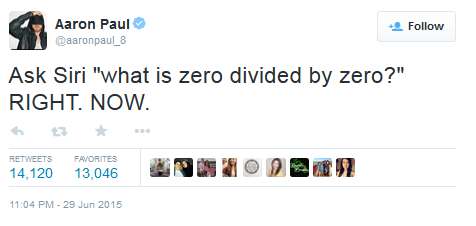 Do what Aaron says
source:
@aaronpaul_8
via
PCMag