Bracketron GreenZero chargers automatically help to kill vampire power
2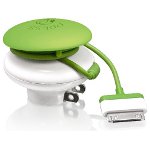 In our homes, we don't necessarily think about all that much, but in actuality, most of our cell phone chargers are slowly contributing to our higher monthly electric cost when they're not actually charging devices – and oh yeah, did we mention that they're wasting previous electricity as well?
These so-called
vampire power
suckers might not impact your monthly electric consumption, but think about it like this, it would seemingly add up if you had hundreds of idle chargers connected to your wall outlets. Well, fear not, because
Backetron's lineup
of new chargers are here to automatically eliminate vampire power!
Essentially, these new
eco-friendly chargers
from Bracketron will recognize when a device is connected, which then allows them to be juiced properly. Moreover, the neat thing is that they will also detect when your device's battery is filled to the top, which then automatically turns off the charging mechanism – but more importantly, they consume
zero idle power
to conserve energy.
Bracketron has three different models that include the Mushroom GreenZero, Stone GreenZero, and the Stone Battery. With the
Mushroom GreenZero
, it's shaped like a mushroom, obviously, but the trick into activating the charging mechanism is to push down on the large green button – with your hand or your foot (as it's depicted in the image below). Secondly, the
Stone GreenZero
works in similar fashion, but it's more travel friendly, features a foldable design, and is activated the same way by pressing the less pronounced green button. Lastly, the
Stone Battery
features a 1,000 mAh battery inside to provide on the go charging.
In terms of pricing, the Mushroom GreenZero ranges between
$24.95 to $29.98
depending on which model you go with (3 versions), and the Stone GreenZero retails for
$22.56
. As for the Stone Battery, its pricing hasn't been announced just yet. However, all three products are expected to go on sale through various channels by March 2012.
source: Bracketron
Bracketron Unveils Eco-Friendly Line of Mobile Device Chargers That Automatically Eliminate Vampire Power

Innovative chargers and batteries with GreenZero Technology – the most eco-friendly and efficient way to charge Android, iPhone and other mobile devices – to be showcased at CES 2012, North Hall Booth 6228, Jan. 10-13, in Las Vegas

Minneapolis, MN – January 3, 2012–
Bracketron, a leader in consumer electronics accessories, announces its new lineup of stylish and eco-friendly mobile device chargers and batteries that feature GreenZero Technology. This exclusive technology is the most eco-friendly and efficient way to charge mobile devices and totally eliminates wasteful stand-by consumption, also known as vampire power, which other chargers consume when they are left plugged into power outlets.
Bracketron's GreenZero chargers detect when your device is fully charged or unplugged, and then automatically shut off. The chargers then consume zero idle power to save energy, while also lengthening the life of your device battery by limiting top-off charging time. Bracketron's mobile device chargers make it easy to get rid of standby consumption, so that you no longer need to worry about unplugging your chargers or switching off a power strip to save energy. The travel-friendly chargers also save energy while charging your devices through their incredibly efficient GreenZero technology.
Bracketron's GreenZero product lineup includes the
Mushroom GreenZero
and
Stone GreenZero
wall chargers for mobile devices, and the
Stone Battery
, a mini portable power supply that is available for both iPhone and microUSB-connected mobile devices. The GreenZero chargers and battery will be unveiled at the International CES 2012, North Hall Booth 6228, Jan. 10-13, in Las Vegas. Bracketron's GreenZero line will be available at retailers nationwide in March 2012.
GreenZero Chargers
The
Mushroom GreenZero
is the most ergonomic charger of the lineup. The Mushroom immediately starts charging when connected to a device with low battery levels by simply pressing the "mushroom" button with your hand or foot. When the device is fully charged or unplugged, the charger will automatically shut off to save energy and your battery. The charger's green technology allows for zero standby energy consumption.
The lightweight Mushroom GreenZero has a very compact design and an integrated cable reel that makes it ideal for travel and portable use. The glossy white and green wall charger is available in three models – one for USB-connected portable devices such as tablets, cameras, and cellphones; another with an embedded microUSB cable for Android and other smartphones; and a third model that includes an Apple 30 pin cable for iDevices. With pricing from $24.95 to $29.28, all models of the Mushroom GreenZero are available at
Bracketron.com
.
The
Stone GreenZero
is a wall charger that is compatible with USB mobile electronic devices. The small, travel-friendly charger features a foldable, snag-free design so that it can be easily carried in a purse or bag. The Stone GreenZero starts charging with the press of its green button and automatically shuts off with zero idle power once your device is fully charged or unplugged. The efficient Stone GreenZero is available for only $22.56 at Bracketron.com.
Mini Batteries
Bracketron's
Stone Battery
is a stylish mini portable power supply that allows you to power up your mobile device on-the-go. The pocket-sized Stone Battery can be used with mobile devices that are paired with or without a protective case. The 1000mAmp battery includes an LED indicator that lets you know when the stone is fully charged, and will recharge mobile devices for up to three hours. Once your device is fully charged, the Stone Battery automatically shuts off. Two models of the Stone Battery are available – one with an embedded cable for microUSB devices and another with an Apple 30 pin cable for iPhone, iPod and iPod Touch.
Media members who would like to make a booth appointment with Bracketron at the 2012 International CES or request more information on Bracketron's versatile line of eco-friendly chargers and universal mounting solutions and accessories may contact PR representative Tiffany Iwankiw at
(305) 374-4404 x140
or
tiffanyiwankiw@maxborgesagency.com
.
About Bracketron
Founded in 2001, Bracketron is the industry leader in universal mounting solutions and accessories for many of today's most popular mobile and handheld technologies, including GPS, smartphone, iPad/tablet, MP3, satellite radio and PC. Bracketron offers a broad selection of mounting configuration options designed to offer an optimal level of flexibility and functionality. The company has broadened its product line to include a variety of flexible mounting options designed to extend the use of the device and enhance the overall user experience.

For more information about Bracketron, visit

www.bracketron.com.