Boost Mobile to boost unlimited plans for Android phones by $5 starting October 6th
4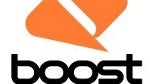 Pre-paid carrier Boost Mobile is planning to, uh, boost the cost of monthly unlimited plans for its customers using Android phones. Starting October 6th, those Boost Mobile customers using a phone powered by Google's open source OS
will have to pay $55 a month for all the talk, text, messaging, e-mails and calls for information that they can eat
, up from the previous $50 rate. The new plan will still offer shrinkage (no, not what you're thinking) with 6 on-time payments reducing the bill by $5. The lowest that the bill can get down to is $40 a month and no, the payments do not have to be consecutive. That is only a $5 difference from the current $35 bottom that the carrier previously offered Android users making on-time payments.
And lest you think that Boost Mobile doesn't have a heart, existing Android users with a $50 monthly unlimited plan as of October 6th will be allowed to keep their current plan as long as they don't let it expire. And those current customers who upgrade to a CDMA Android device on or after October 6th will have a $5 charge added to their monthly rate but they
will not lose any of the shrinkage savings
that they have already qualified for.
via:
PhoneScoop