Bloomberg app for Android delivers market, business and financial news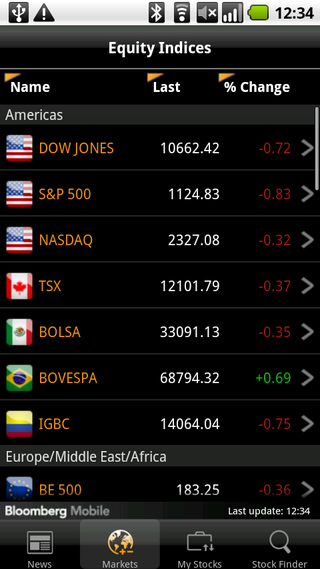 Anyone with more than just a passing interest in financial markets knows about Bloomberg. The company's "screens" are a staple of most trading desks, providing inter-dealer quotes and trading news on a number of markets ranging from forex to equities. In addition, the company has a very capable news organization around the globe.
Already available on iOS, BlackBerry and Nokia phones, the Bloomberg app takes the best from the company's web site and brings it to smartphone users in an easy to use fashion. On the Android version, two screens on the home page bring updated stock quotes for a user's portfolio. Business and financial news are both updated during the day, allowing you to successfully trade off the news and make money saving decisions quickly before the rest of the world finds out about a story.
Bloomberg calls the software the first, "fully featured business and finance app for Android. This allows us to deliver the news faster and gives users the ability to read stories while off-line."
The Bloomberg app is now available for free from the Android Market and the company says to watch for some mobile innovations to take place soon.
source:
Bloomberg