Blind camera comparison: Huawei P20 Pro vs iPhone X, Galaxy S9+, Pixel 2 XL
65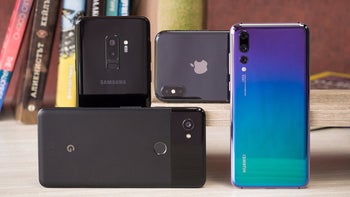 Voting for this comparison has ended.
It is big, it is shiny, it is powerful, and it has over 90 megapixels at its disposal. That's the
Huawei P20 Pro
in a nutshell, an we've been playing with it for the past week or so, evaluating every single one of its features as part of our in-depth review. Spoiler alert: it's pretty good!
But what about that fancy triple camera on its back? Is the Huawei
P20 Pro
as capable of a shooter as its maker says? And no less importantly, is it a match for today's top performers in the field? Well, maybe you can help us find out.
Yup, it is time for a blind camera comparison – a comparison where you, our readers, vote for the photos you like best.
We took Huawei's latest top phone together with the
iPhone X
, the
Samsung Galaxy S9+
, and the
Google Pixel 2 XL
for a quick camera shootout. The results can be seen and examined in the galleries below, and for each scene there's a poll where you may cast your vote for the photo you like the most. Simple, right?
Since this is a
blind
camera comparison, we're not revealing which phone took each photo – no matter which brand or phone you're a fan of, your votes will be steered solely by what your eyes can see, without bias getting in the way. That's the beauty of blind tests! And if you just want to see the results, come back in a few days when the voting phase is over.
So without further ado, let's look at some photos!
Scene 1
There are about 75 species of tulips and they come in a wide array of colors – from the rare Semper Augustus, which at one point in time cost as much as a house, to the common garden variety we have pictured here. The four images demonstrate how all four phones approach color reproduction differently. While some lean towards a more natural presentation, others spice up their images quite a bit. Let us know which one you find most appealing.
Scene 2
Minutes later, our walk around the park brought us to this venue – The Sea Casino (which is not actually a casino). Anyway, here we have another set of images where color representation differences are easy to spot. Variations in contrast amount can be observed as well. Vote for your favorite below!
Scene 3
The next scene gives us the opportunity to examine how well the four phones resolve detail. It also gives us a hint at how much sharpness their software algorithms add as they process the image. And they also let us know which bands will be playing in town in the coming weeks. The four shots were captured indoors at a coffee shop later that afternoon.
Scene 4
Capturing a scene including both bright and dark areas is a challenge for any camera. Phones, however, have been getting better and better at it. Through the use of advanced camera algorithms, modern phone cameras can pull out more detail in tricky situations like the one here. But which of the four photo you like best?
Scene 5
Here's another situation where camera software can make or break a photo. We have the bright sky in the frame and the afternoon sun right outside of it, while the facade of the building resides in the shadow. In other words, our subject isn't illuminated all that well, hence software trickery may be required to represent details in the shadows adequately. Which phone did it best, though?
Scene 6
We're now entering low-light territory. The scene pictured is illuminated predominantly by streetlights producing their distinctive warm tone. Meanwhile, the text on the signs on the right lets us see which phones capture better detail in low light.
Scene 7
Here's another low-light scene – a more dynamic one this time, letting us see how these phones deal with bright highlights and deep shadows in a night-time situation.