Blind camera comparison: Galaxy S9+ vs iPhone X vs Pixel 2 XL vs Note 8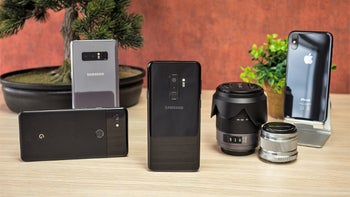 Samsung says that its new
Galaxy S9
series "redefines" what a phone camera is.
In a way it does: the S9 and S9+ are the first modern smartphones with a variable aperture lens that can open as wide as f/1.5, the widest ever on a smartphone, and this makes it possible to capture a ton of light at night and allows shooting videos at nearly pitch dark conditions. At the same time, this f/1.5 camera is only used in those super low light scenes, while the majority of time the phone shoots at its other, f/
2.4
setting that captures actually sharper photos.
How well does this setup work in real life?
That's what we wanted to find out, but rather than give you our opinion, this time we wanted to see what you, our readers, think. It's time for a blind camera test!
For this blind camera test we used the following phones:
We have downsized the photos to 1600 pixels for easier viewing and we have scrambled the order of the phones for every scene. Right now, all you have to do is pick the photo that you like the most and stay tuned to PhoneArena.com. We'll reveal the results in just a few days.
Day Scene 1: Early spring at the beach
The first scene we shot was at the entrance of a beach bar in early spring. The dark hallways contrast with the bright and cheerful skies and bar, a perfect test for the phone's auto HDR capabilities.
Day Scene 2: Church walls on a sunny day
In this picture of an old church, you can clearly see the different ways the cameras interpret color.
Day Scene 3: HDR to the test
Another high-dynamic scene, this more solitary beach scene highlights good and bad HDR one more time.
Day Scene 4: Spring colors
The green grass and blue skies are something that will inevitably end up in your pictures, and here is how different phones capture this scene.
Portrait
All four phones support Portrait Mode in one form or another, but the differences really come to light when you try to take a portrait photo at night. Here are the results.
Night Scene 1: Neon lights
The first of four night scenes, the neon lights are a challenge for every smartphone camera.
Night Scene 2: Sea garden
Once again, when night settles, smartphone camera don't perform as good as during the day. But which one is best?
Night Scene 3: Fancy restaurant at night
The bright lights are a particularly challenging thing to photograph at night.
Night Scene 4: More night colors
One last night-time picture. Pick your favorite below.