Blackberry announces it is ready to 'explore strategic alternatives', options include selling the company
46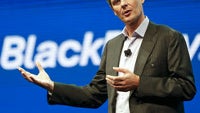 BlackBerry, the ailing Canadian smartphone maker, has just announced its board of directors has agreed to 'explore strategic alternatives' and is forming a special committee.
What does this mean? It's basically both a public acknowledgment of the troubled state of the company and also a serious attempt to do all it takes to save BlackBerry. The Canadian company formerly known as RIM announces it is ready to seek alternatives like forming a joint venture, sales of various assets, or downright selling the company.
BlackBerry has hired J.P. Morgan to advise it on its financials and two law firms, Skadden Arps and Torys LLP in the role of legal advisers. Within the last year the company released BlackBerry 10 and the first new devices running on the new operating system, but it continues losing market share. The Canadian phone maker has lost hugely important government clients as they switch to Android and iOS.
Investors liked the news and BlackBerry shares grew over 7% to reach $10.50 apiece. The announcement does not guarantee that BlackBerry will sell its business, but the company definitely needs to try to fix its mobile business at all costs.

BlackBerry Board of Directors Announces Exploration of Strategic Alternatives


WATERLOO, ONTARIO — (Marketwired — Aug 12, 2013) — BlackBerry Limited (BBRY)(BB.TO), a world leader in the mobile communications market, today announced that the Company's Board of Directors has formed a Special Committee to explore strategic alternatives to enhance value and increase scale in order to accelerate BlackBerry 10 deployment. These alternatives could include, among others, possible joint ventures, strategic partnerships or alliances, a sale of the Company or other possible transactions.

The Special Committee of the Board is comprised of Barbara Stymiest, Thorsten Heins, Richard Lynch and Bert Nordberg, and will be chaired by Timothy Dattels.

With the announcement of the Special Committee, Prem Watsa, Chairman and CEO of Fairfax Financial informed the Company that he felt it was appropriate to resign due to potential conflicts that may arise during the process. Fairfax Financial is the largest BlackBerry shareholder. Mr. Watsa said, "I continue to be a strong supporter of the Company, the Board and Management as they move forward during this process, and Fairfax Financial has no current intention of selling its shares."

"During the past year, management and the Board have been focused on launching the BlackBerry 10 platform and BES 10, establishing a strong financial position, and evaluating the best approach to delivering long-term value for customers and shareholders," said Timothy Dattels, Chairman of BlackBerry's Special Committee of the Board. "Given the importance and strength of our technology, and the evolving industry and competitive landscape, we believe that now is the right time to explore strategic alternatives."
Thorsten Heins, President and Chief Executive Officer of BlackBerry, added, "We continue to see compelling long-term opportunities for BlackBerry 10, we have exceptional technology that customers are embracing, we have a strong balance sheet and we are pleased with the progress that has been made in our transition. As the Special Committee focuses on exploring alternatives, we will be continuing with our strategy of reducing cost, driving efficiency and accelerating the deployment of BES 10, as well as driving adoption of BlackBerry 10 smartphones, launching the multi-platform BBM social messaging service, and pursuing mobile computing opportunities by leveraging the secure and reliable BlackBerry Global Data Network."

JP Morgan Securities LLC is serving as financial advisor to BlackBerry and Skadden, Arps, Slate, Meagher & Flom LLP and Torys LLP are serving as legal advisors.

There can be no assurance that this exploration process will result in any transaction. The Company does not currently intend to disclose further developments with respect to this process, unless and until its Board of Directors approves a specific transaction or otherwise concludes the review of strategic alternatives.

source: BlackBerry