BlackBerry's Chen: "We need more apps" (UPDATE)
99+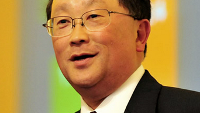 UPDATE:
A video of John Chen's address at the Churchill Club has surfaced. We have embedded the video at the end of this story for you.
Ask most people why they won't buy a BlackBerry, and among the top responses you will receive is that the platform does not offer many of the leading apps found on iOS and Android. While Android apps can be played on BlackBerry 10.2 and higher, some apps do not run as well as they do on an Android powered device, and the selection of apps from the Amazon Appstore does not totally appease everyone. Count BlackBerry CEO John Chen as being in that latter category. In a talk made yesterday at the Churchill Club, Chen said that Amazon's appstore "
is not competitive to Google Play or the iTunes store.We're working hard at that
."
With rumors suggesting that
BlackBerry will be launching an Android flavored slider in the fourth quarter
, Chen might have floated a trial balloon during his talk yesterday. The executive previously answered questions about an Android powered 'Berry by stating that
such a thing would never happen until Android was a secure platform
, Friday's tone to his response was different. "
If you really want to play in the bigger market, you are going to have to be cross-platform
," the CEO stated. "
You are going to have to have partners; otherwise you go away
."
Chen admitted that sales of newer BlackBerry models have not been strong. "
By any definition, it is not a runaway success
," he said about demand for the newer BlackBerry models like the
BlackBerry Passport
and the
BlackBerry Classic
.
Code named the BlackBerry Venice,
the slider has been photographed and videoed running Android
. The current rumor has the device
launching in November on all four major U.S. carriers
. The BlackBerry Passport Silver Edition also has been caught on video running Android. A new rumor last week suggested that if sales of the Slider are strong,
BlackBerry would release an Android version of its enterprise-centric handset
next year.
Chen sounds like a man ready to make an earth-shattering decision. During a recent interview, he said that if BlackBerry can't make money soon selling handsets, the company would exit the business. Desperation often leads to inspiration, and an Android powered Venice Slider (
with a BB 10 skin
say some rumors) certainly seems like an inspired choice to start a whole new chapter for BlackBerry. Many Android users who have said in the past that they would never buy a BlackBerry have expressed a strong interest in the Venice. This might be an opportunity that Chen cannot afford to pass up.
source:
Re/code
,
ChurchillClub
via
Crackberry