New clearer images get up close with the BlackBerry 'Venice' slider
80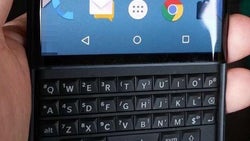 BlackBerry may not be the force it once was in the consumer smartphone market, but there's certainly a degree of excitement and anticipation for its next release. The device
codenamed 'Venice'
has already been leaked ad nauseam, and besides taking us on a trip down memory lane with the slide-out keyboard mechanism, another draw seems to be the handset's heavy investment in Google's Android. BB10, like Microsoft's Windows Phone software, has often failed to court a market heavily influenced by iOS and Android. But if the idea of a BlackBerry running on Android Lollipop piques your interest, then the Canadian firm's upcoming smartphone may just take your fancy.
It's fair to say that with this new-found push for Android-powered smartphones, BlackBerry is finally being dragged into the modern era. After retaining tradition while the iPhone and later Android changed the shape of an industry it once dominated, BB's market share began to plummet dramatically. Where the move to broaden the horizons of
BlackBerry Messenger
smacked of desperation, though, the decision to roll with Android makes logical sense, and for those wooed by the idea of a sliding physical keyboard, the BlackBerry Venice seems a very appealing prospect.
With several glimpses of the device already under our belt, the latest batch of images offer plenty more food for thought. The SIM and microSD slots, for example, are placed atop the handset rather than at the side. Where leaked images are normally blurry -- despite the ubiquity of top-notch cameras -- these snaps are clear enough to see specs of dust, giving us our most vivid look yet at what's next from BlackBerry.
Apparently, this one isn't going to
arrive until November
, and with IFA incoming, plenty of other major smartphone announcements will be made prior to its release.
Still, if you are interested, take a look at the newly-leaked images below, and be sure, as ever, to drop your thoughts in the comments.