BlackBerry slides highlight the accomplishments of the Chen era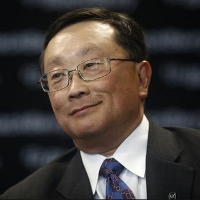 Last November, turnaround artist John Chen took a job that not too many CEOs would have wanted, the top executive post at BlackBerry.
Thorsten Heins' short-lived reign as CEO of BlackBerry had just gone down in flames
amid a huge write off of unsold
BlackBerry Z10
handsets. Without a strong CEO, the company might not survive.
Luckily for BlackBerry, John Chen decided to take the job. With the turnaround of Sybase on his resume, Chen had succeeded before under similar conditions. Today,
the company reported a smaller loss than expected
for its first fiscal quarter, and Chen's plan for turning the company around is taking hold faster than expected. And to top things off, on Thursday we saw
Chen holding the two most eagerly awaited Berry handsets since the BlackBerry Storm
.
When meeting with the media on Thursday, the company put up a slide highlighting some of BlackBerry's capabilities in security. Another slide discussed BES12, which will offer multi-platform support in the MDM space for BlackBerry. Other slides focused on the enterprise version of BBM, and the three BlackBerry models coming out in fiscal year 2015, which is already underway.
Displayed were the already released
BlackBerry Z3
. This is the first phone to be released under the terms of a five-year deal with contract manufacturer Foxconn. The later designs, produces and stores the phones, while BlackBerry brings its operating system and marketing prowess to the table. These are low-ends models designed for developing markets. The other two models are the top-shelf BlackBerry Passport and the
BlackBerry Classic
.
Also, a slide listed the accomplishments of BlackBerry in the John Chen era. This includes having the messaging app
BBM pre-installed on certain Android
and
Windows Phone models
. Also noted was the shipping of the BlackBerry Z3, and the introduction of the BlackBerry Passport and BlackBerry Classic.
You can check out the slides by clicking on the slideshow below!
BlackBerry shows off accomplishments of the John Chen era
source:
BerryReview