BlackBerry is offering the Privacy Shade to subscribers of Hub+
6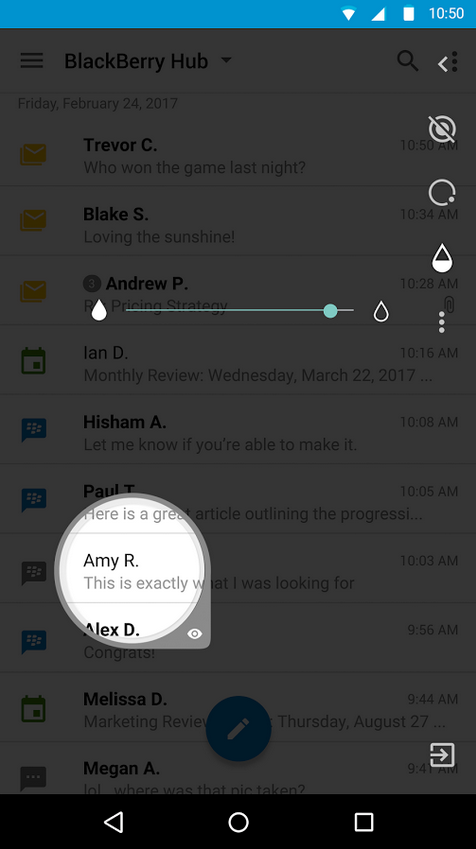 The BlackBerry Privacy Shade will soon be available to all Android phones running 5.0 and up
Back in March,
we told you about BlackBerry's Privacy Shade
. This is a feature that uses a dark shade to cover up sensitive information on your screen. You can decide how much of the display you want covered, and how much you want to leave as the viewing area. The idea is to protect sensitive and important words written on your phone screen from being seen by prying eyes.
Currently, the Privacy Shade is available only to BlackBerry users running an Android powered unit. But soon, BlackBerry will offer it for any Android handset free for a 30-day trial, along with all of the other BlackBerry Hub+ features (Android 5.0 and higher). After the trial period is over, you will need to subscribe to BlackBerry Hub+ to keep using it. Soon, Privacy Shade users will get to choose from three different sizes for the viewing area. Changes coming to the Hub include:
Quick File: Move messages into a folder with just a few taps, enabling faster workflows.
Support for Google Hangouts notifications: You can now see Google Hangouts notifications in the BlackBerry Hub.
GroupWise mail server Out-of-Office message: Users who are using GroupWise mail now have the same out-of-office functionality as others.
Enhanced message preview when roaming: For ActiveSync accounts. We now provide a message preview during sync instead of just showing a header or waiting to download the full message.
Dark Theme for the Hub Widget: If you have set the dark theme for Hub the Widget will now respect that setting as well.
The 30-day free trial of BlackBerry Hub+ includes a similar trial to BlackBerry Hub, Calendar, Password Keeper, Contacts, Launcher, Device Search, Notes and Task, If interested, click on the sourcelink.
source: BlackBerry via PhoneScoop