BlackBerry co-founder Balsillie says that the BlackBerry Storm had a 100% return rate
34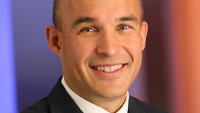 When Verizon brass turned down the
Apple iPhone
, they never thought for a second that their decision would be right up there with the infamous choice made by an executive at Decca Records to turn down the Beatles. But once the iPhone was launched in June 2007, it quickly became apparent to Verizon that they had made a mistake. The carrier tried to come up with a handset that could take on Apple and AT&T and eventually turned to BlackBerry to develop such a device. The result was the
BlackBerry Storm
, the manufacturer's first touchscreen phone.
Sporting the SurePress clickable screen, the Storm was released on November 21, 2008 and quickly set sales records at Verizon. It also set records as the buggiest smartphone ever launched. Former BlackBerry co-founder and co-CEO Jim Balsillie recently told an audience in Canada that nearly every Storm had to be returned and replaced. The phone, according to the former executive, had a "
100 percent return rate
."
In the wake of the Storm's launch, back in January 2009 Balsillie told smartphone buyers that the frustration felt by Storm buyers when they first unboxed their phone,
would be the new norm
. Thankfully, that proved not to be the case. As for BlackBerry, the company was valued at $83 billion in 2008 and held 50% of the smartphone market. Today, the company
is valued at $4.95 billion and owns a very small share of the smartphone market.
"With Storm we tried to do too much. It was a touch display, it was a clickable display, it had new applications, and it was all done in an incredibly short period of time and it blew up on us. That was the time I knew we couldn't compete on high end hardware."-Jim Balsillie, former co-CEO, RIM"
Balsillie now admits that the smartphone market has left BlackBerry behind. But the executive still chooses to live in the past, as his daily driver is the
BlackBerry Bold
. "
I love it and you'll have to pry it out of my cold, dead hands
," he said.
As for the Storm, a software update to BlackBerry 5 OS made the phone useable. So much so, that a much improved
BlackBerry Storm 2
was released nearly a year later.
source:
Bidness