BlackBerry Z3 enjoys strong launch weekend in Indonesia
99+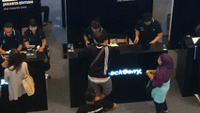 The
BlackBerry Z3
is apparently off to a great start in Indonesia. The phone, the first to roll off the Foxconn assembly line as part of BlackBerry's five-year deal with the contract manufacturer, has been sold out in Jakarta. BlackBerry has been
promoting the device with television ads
and has converted the city's Central Park Mall into a giant BlackBerry Z3 store. BlackBerry even has a counter in the park, showing a running total of Z3 units that have been sold there. So far, more than 1250 units were snatched up at Jakarta's Central Park.
Under BlackBerry's deal with Foxconn, the later designs, manufacturers, and stores entry-level BlackBerry models for the emerging markets. BlackBerry adds the OS and its illustrious name. BlackBerry CEO John Chen says that there are four new models in the works, including the old-school
BlackBerry Classic
. That model includes the largest touchscreen ever used on a QWERTY-equipped 'Berry at 3.5 inches. It will also feature a trackpad, and function keys just like the ones on grand-dad's old 'Berry.
"After BlackBerry Jakarta, now we are again working on the latest BlackBerry with either 3 to 4 [new devices planned]. Yes, there is the keyboard, and one of them is [all-touch] not a keyboard. "-John Chen, CEO, BlackBerry
BlackBerry itself has provided some pictures of the BlackBerry Z3's launch weekend. The company is hoping that it doesn't see a repeat of what happened when both the
BlackBerry Z10
and
BlackBerry Q10
launched last year. BlackBerry touted strong sales of both models when they were each released. And yet, by the end of 2013 the company had to
write off a massive amount of Z10 units gathering dust in the warehouse
.
source:
BlackBerry
,
Crackberry