Check out this Indonesian ad for the BlackBerry Z3
99+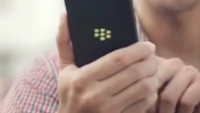 Ah! The universal language of love. Take this ad for the just released
BlackBerry Z3
. Two guys. Two girls. Will the sparks fly? Not until one of the guys pulls the BlackBerry Z3 out of his pocket. The phone is the first to roll off the Foxconn assembly line as part of a five year deal between the contract manufacturer and the Canadian company. Foxconn designs, builds and stores the phone. BlackBerry supplies the OS and its glorious name and the profits are split. Only low-end models for emerging markets are covered by the deal.
The
BlackBerry Z3 was launched on Tuesday
, and with a trio of carriers in the country
already selling out their pre-orders
, it would appear that the handset is off to a great start. BUZZ! Sorry, we used those same exact words
when all of the glowing reports came in following the launch
of the
BlackBerry Z10
in the U.K. and Canada last year. And the manufacturer ended up having to
write off nearly a billion dollars worth of units collecting dust in the warehouse
.
The second video in the slideshow below includes one that shows a long line of Indosat customers waiting for their BlackBerry Z3. Has BlackBerry hit a home run here with their first Foxconn developed handset? Once burned, twice shy. Perhaps we should wait to see some official numbers from BlackBerry before we jump to any conclusions.
Speaking about conclusions, how did our four youngsters, uh, make out in the Z3 ad? You can find out by viewing the video below.
source: Indosat (
1
), (
2
) via
Nerdberry
,
Crackberry