BlackBerry Z10 for Verizon finally receiving OS 10.1 upgrade
1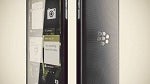 Never in a hurry to be first with operating system updates, Verizon has finally given the green light to the
BlackBerry Z10
to join the rest of the herd at version 10.1.0.2039.
Version 10.1 brings HDR camera settings to the Z10's camera app. It also enables PIN messaging, a strange addition as that used to be a feature that was native to BlackBerry devices. Selecting text should be a bit easier and 10.1 also supports Skype.
There is a bit more too, you can cut, copy and paste numbers in and out of the dialer and the hub will support receiving and reading emails that have attached emails within them. The calendar supports portrait and landscape mode in all views. The Mobile Hotspot feature will support 802.11n.
Notifications have been improved greatly as well, with added support for account-specific notifications, customized vibration sequence per contact, per account and contact specific notifications. With the notification improvements come enhancements to BBM messaging accuracy, SMS reliability, and email access via SMTP or IMAP.
There have been further improvements in application performance and user experience factors.
"Frequency of device resets has been reduced,"
we hope eliminated. Other reliability concerns have been addressed as well, such as deleted apps actually being removed from the device and apps that interact with the Hub have had their relative connectivity and reliability improved.
If you have not seen a notification pushed your way,
go to Settings >> Software Updates
and you should be on your way. The system file is about 350MB and the process will take the better part of an hour.
source:
Verizon
(PDF) via
CrackBerry.com