BlackBerry Power Center receives update
1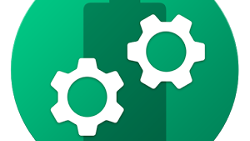 The BlackBerry Power Center app has received an update in the Google Play Store. The app helps you optimize the power usage of your Android powered BlackBerry handset, so that you can make sure that your phone has power when you need it the most. You can decide on a power configuration for each app, including those titles that constantly eat energy as though it were Cracker Jack out of a box.
With the BlackBerry Power Center, you will be told which apps will benefit from battery optimization. Those who install the app get notificatied when a settings change can result in immediate energy conservation. You can arrange to have settings preset for each app, or manually make changes whenever an app is opened.
As we said at the beginning of the story, the app has received an update to version 1.0.7.463. The new features include:
Manage applications that are running in the background.
Receive notifications for apps that are using battery power while running in the background.
Minor enhancements and stability fixes.
If you have the app already loaded on your Android powered 'Berry, go to the Google Play Store, tap the hamburger menu on the top of the screen and click on My apps & games. Scroll to BlackBerry Power Center and tap on Update. If you have yet to load this app on your BlackBerry, click on the sourcelink below.
source: BlackBerryPowerCenter via CrackBerry