BlackBerry PlayBook with a 10-inch display revealed in spy shots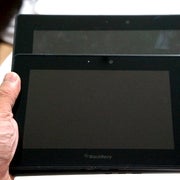 Over a year ago, rumor had it that a
bigger, 10-inch BlackBerry PlayBook tablet
was being planned. Obviously, no such device has been officially announced to this day, yet this does not necessarily mean that a 10-inch PlayBook never existed. In fact, here it is, ladies and gentlemen. Photos of what is said to be a
BlackBerry PlayBook
slate with a 10-inch display have surfaced, courtesy of a source from the far east.
When it comes to hardware, information is pretty scarce, although it is clear that the tablet has cellular connectivity, either of the 4G or 3G kind, and a 7,250mAh battery. A pair of cameras is also present on the device
– one in the front for video chats and one on its back. But what we are more interested in, however, is whether this tablet will ever see the light of day.
Unfortunately, no clear answer to that question has been given yet. It is quite possible that we are looking at a prototype for a 10-inch PlayBook, the development of which got cancelled along the way. On the other hand, there is still a possibility of the tablet being released at some point in the future, should RIM decide that it has potential, and if the company can afford shifting time and resources away from developing BlackBerry 10 smartphones and investing it towards bringing the 10-inch PlayBook to market.
To us, the former scenario seems more plausible, but we are also interested in hearing what you think about all that. Should RIM launch a revamped PlayBook with a 10-inch display, or should it just focus on bringing next-gen BlackBerry smartphones? Drop us a line below and let us know.