10-inch BlackBerry PlayBook version rumored for release around year's end
5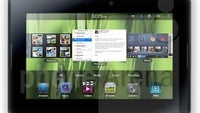 Could the BlackBerry PlayBook meet its successor by the end of this year? According to some, the answer to this question is quite frankly yes. It may have not been mentioned at all during the three days time of the BlackBerry World conference, but
a 10-inch BlackBerry PlayBook-like tablet might be already in the works
with a projected launch date around this year's Christmas season.
Information about RIM's alleged 10-incher is scarce for now, and besides the larger display, no other technical specifications have been hinted. We can only guess that it will not be meant to entirely replace the
7-inch BlackBerry PlayBook
, a tablet that we are already familiar with, and will be marketed as an alternative with a bit more real estate, or a "bigger brother," if you will. After all, the 7-inch PlayBook model has been out for two weeks only, and seeing a successor to it in only 8 months time does not seem very logical. Fortunately, if a 10-inch BlackBerry PlayBook does see the light of day this year, then chances are it will come with all the features that the current model lacks, such as 4G connectivity and a proper email client.
Of course, all of this is just a matter of speculation for now. We will have to wait patiently and see if RIM confirms the 10-inch PlayBook later this year. Or don't you think that we might get treated to some leaked photos first?
source:
Boy Genius Report
Recommended Stories