BlackBerry Passport first look
53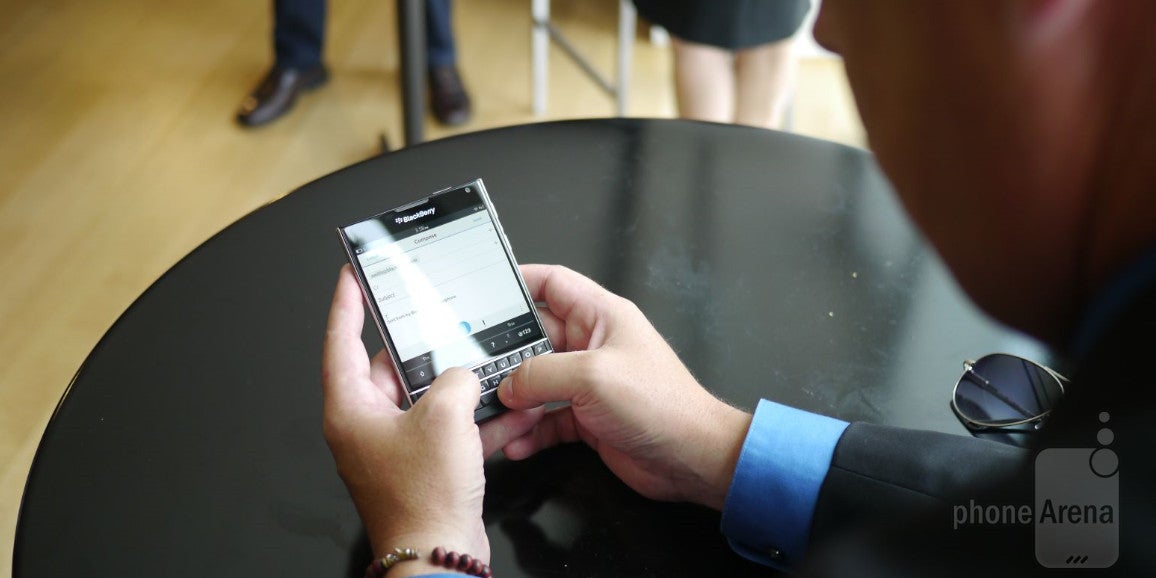 If you haven't heard it already, RIM managed to make the news today, as the company officially announced that it's in the
process of acquiring German security firm Secusmart
, during its BlackBerry Security Summit conference held in New York City today. While in attendance, we managed to get our first look at the
upcoming BlackBerry Passport
, which is hopefully going to be one of the many next-generation BlackBerry devices we'll be seeing soon in the future. In fact, there were plenty of executives at the conference sporting the handset in plain sight.
As much as we're excited to see the smartphone in person, the BlackBerry executives did not allow anyone to handle the phone for a comprehensive hands-on look. Instead, we were merely given a first look at the upcoming smartphone. In person, we got to say that the phone looks just as beautiful as the rendered shots of the handset – almost to the teeth to tell you honestly. Aesthetically, there's no denying that it follows the BlackBerry design heritage, where it's a portrait QWERTY phone, but it's sporting a more aggressive design.
Rather than going with the rounded looks of previous efforts seen with recent BlackBerry smartphones such as the Q10, Q5, and Q20, the Passport flaunts a hard lined design that's more right angled along the corners. From what we can gather, too, it looks incredibly thin! There's no denying that the industrial design is more profound with this model, but we're curious to know exactly how it feels in the hand – more so when it's rumored to offer a
porcelain-like coating with the rear casing
.
Typical of a BlackBerry, the Passport employs a portrait style QWERTY keyboard. However, this time around, they've minimized the layout by shrinking the row of buttons to a mere 3 – as opposed to the 4 we're normally accustomed to seeing. Additionally, numbers and punctuations aren't available through the keyboard, but they've been turned into virtual keys that sit above the top row for quick access. And during our demo, we got the chance to see the keyboard be used to
scroll through web pages
by lightly brushing your finger over the QWERTY.
The executives couldn't comment about actual specs of the phone, aside from the 4.5-inch 1440 x 1440 display, which looks pretty sharp from our point of view. Needless to say, the hardware is one portion to the overall picture, but it's surely a good indicator of how it might stack up against the current crop of competition. No word on when the handset will be officially unveiled, but there's arguing that BlackBerry is hoping that this next-gen device will be a hit to consumers. Don't forget to check out our first look video below!