BlackBerry OS 10.3 to offer keyboard shortcuts for physical QWERTY models
10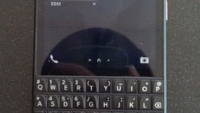 We've recently shown you
a number of rumored features coming to BlackBerry OS 10.3
. A feature recently discovered in the BlackBerry OS 10.3 SDK, allows those with a physical QWERTY keyboard to long press the space bar, minimizing the app you are using, and returning you to the home screen. Of course you can achieve the same exact results by using the swipe up gesture, but it might be easier to press on the physical key instead.
Right now, this feature would be seen on the
BlackBerry Q10
and the
BlackBerry Q5
. We would also expect it on the BlackBerry Classic, formerly called the
BlackBerry Q20
. This is a device due this November,
with some old school features like a trackpad and some function keys
. Then, there is the rumored BlackBerry Q30 aka the
BlackBerry Windermere, which seemingly offers a wide body
with a QWERTY that does not include numbers or punctuation keys
.
A combination of touch and gesture controls
is rumored to be used to operate the keyboard on the phone.
Back in January, when he was still learning the ropes at BlackBerry, CEO John Chen said that
most of the new models offered by the firm will include a QWERTY keyboard
. That is believed to include the low-end models for emerging markets being designed, produced and warehoused by contract manufacturer Foxconn. The latter and BlackBerry have a five year deal under which BlackBerry needs to provide just its name, OS, and marketing for these low-end phones, and both companies split the profits. High-end models like the BlackBerry Classic and the rumored Q30, would be developed entirely in-house by BlackBerry.
source:
BBin
via
Crackberry