BlackBerry Messenger to hit Android and iOS June 27th (or not)
23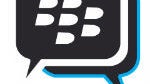 We've known for a bit now that BlackBerry Messenger is going cross-platform and will release and app for Android and iOS, but so far, we've only known that it would be coming "this summer". Now, word out of T-Mobile UK is giving the exact release date when you can expect to see BBM: June 27th.
The release will be available on smartphones only, and you'll need to be running Android 4.0 or higher, or iOS 6 or higher.
One note though, it looks like T-Mobile UK wasn't supposed to give out the info that it did, because the original tweet has been deleted. The tweet simply said, "Great news - BlackBerry Messenger will be available to download on iOS and Android from June 27th! :)" So, we'll have to wait for confirmation on this.
*Update* BlackBerry has denied the leak. A spokesman for the company has released this statement:
On 14 May, BlackBerry announced plans to make its ground-breaking mobile social network, BlackBerry Messenger (BBM), available to iOS and Android users this summer, subject to approval by the Apple App Store and Google Play. While there have been reports that BBM will be available to iOS and Android on June 27, this is not accurate. We will communicate an update as soon as we have an availability date to share.