BlackBerry Kopi leaks; new model to be priced below BlackBerry Q5
6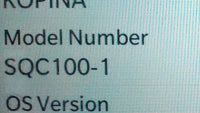 These are strange days for BlackBerry,and they are about to get stranger. On Friday,
the company warned about a greater than $900 million writedown
it is taking for the
BlackBerry Z10
. Over the weekend,
a new all-touch series, the C-Series, is leaked
. On Monday,
the company announces it is going private with a group led by Fairfax Financial Holdings
for $4.7 billion or $9 a share and on Tuesday, another new phone is leaked.
The
BlackBerry Kopi
features a physical QWERTY keyboard, although not the premium style seen on the
BlackBerry Bold 9930
or on the
BlackBerry Q10
. No, the QWERTY on the Kopi resembles the lozenge styled keys that are found on the
BlackBerry Q5
. The rumored device is expected to be priced under the BlackBerry Q5 although it is expected to have a faster processor. It is also believed that the BlackBerry Kopi will lack LTE connectivity but will come with a replaceable battery.
The BlackBerry Kopi resembles the Q5 with a boxy screen on top of a basic style QWERTY. Screenshots of the device turned on show the handset with the name of Kopina and a model number of SQC100-1. The version of BlackBerry installed on the device is 10.2.1 with the rest of the numbers blurred out, leading to speculation that it is a refreshed version of BlackBerry 10.2 that graces the model.
We wonder if this could be a QWERTY equipped C-Series phone since there is certainly a resemblance to the all-touch C-Series model that leaked the other day.
source:
BGR