BlackBerry Classic is officially launched; AT&T and Verizon will carry the phone
27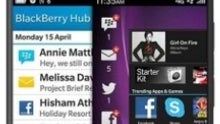 On a day when BlackBerry will be ringing the closing bell on the New York Stock Exchange, the company has launched its throwback phone, the
BlackBerry Classic
. The device brings back some of the features that BlackBerry fans remember from those bygone days when the company ruled the smartphone industry. For example, the trackpad makes its return on the phone along with the function keys that were once a staple on every 'Berry. And of course, the physical BlackBerry QWERTY is on board making it a pleasure to type on the phone. The physical keyboard is said to reduce typing errors by 400%, compared to BlackBerry's virtual QWERTY.
While BlackBerry might have reached into its past to produce the Classic, it didn't totally refrain from adding some modern touches. For example, the 2515mAh battery powering the phone is said to provide outstanding battery life for users. The manufacturer says that battery life is 56% longer than what was experienced on 2011's
BlackBerry Bold 9900
. The much improved BlackBerry browser also is found on the Classic, which is pre-loaded with the BlackBerry 10.3.1 OS. That means that the phone offers BlackBerry Assistant, and works with BlackBerry Blend.
BlackBerry has sold out pre-order inventories of the phone
, priced at $449, in various regions around the globe. Paired with the business oriented
BlackBerry Passport
, the company now has a phone for power users and one for the average consumer. John Chen has done an admirable job and it seems that BlackBerry's survival is no longer in question. It does seem ironic that the executive had to reach into the company's past to help secure its future.
For those waiting for the carrier version of the phone, we have late word that AT&T and Verizon have both announced that they will be offering the device. Pricing and availability are unknown for now. In its release, AT&T noted that it was the first U.S. carrier to offer a BlackBerry device in the states with the BlackBerry 950 back in 1999. BlackBerry itself has posted that the BlackBerry Classic will be available from Canadian carriers Bell ($49.95 with a two-year contract), Rogers ($49.99 on contract) and Telus ($50 on contract).
BlackBerry has posted a number of videos related to the new device. Check them out by clicking on the video slideshow below!
source:
BlackBerry