BlackBerry CEO writes to employees, says company will focus on areas where it can deliver
8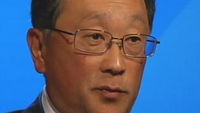 BlackBerry CEO John Chen,
in the face of a $4.4 billion quarterly loss reported by the Canadian manufacturer
on Friday, has written a letter to his work force. In the letter, Chen acknowledged that BlackBerry 10 inventory stuck in the warehouse, is losing value everyday. That explains the big $2.7 billion write off that contributed largely to the company's big fiscal third quarter loss.
Writing to employees, Chen says that the partnership that BlackBerry inked with Foxconn will payoff because of the contract manufacturer's ability to get products to market quickly. The CEO says that thanks to the partnership, BlackBerry can resume doing what it does the best: "
iconic design, world-class security, software development and enterprise mobility management
."
The executive wrote that he is working on recruiting a head of BlackBerry's Devices division. He also pointed out that BlackBerry remains a leader in secure enterprise mobile device management, QNX is a leader in the automotive sector and BlackBerry is a pioneer in mobile messaging with BBM. Chen also confirmed the news that
LG plans to pre-install select Android phones with BBM
.
The new man at the helm of BlackBerry revealed that the company has a $3.2 billion cash-position which means that it can make "
strategic investments
" in situations that can bring growth to the company. Writing the letter is a good idea because it clears up rumors, focuses on the company's strengths, and lets BlackBerry personnel know that they do have a new man at the top that has a plan. You can check out the letter below.
At today's Global Town Hall, I talked a bit about the state of BlackBerry and the changes we're making to address pressing challenges.

A Tough Quarter

The overall earnings numbers this quarter are not good. BlackBerry will take a primarily non-cash, pre-tax charge against inventory and supply commitments of approximately $1.6 billion. In plain terms, we are acknowledging that we have inventory that is losing value by the day – devices that aren't selling and warehoused components to produce even more in-market devices. This contributed significantly to a loss of $4.4 billion in this quarter.

Focusing Our Hardware Talent

This inventory write down points to a pressing challenge: how to profit from BlackBerry hardware, while reducing the risk of too much – or too little – inventory. To do this, we must focus our business on what we do well while leveraging the capabilities of our partners.

This is why today we announced we have established a five-year partnership with Foxconn, the world's largest manufacturer of electronic products and components. They know how to manage supply chains and they have remarkable capabilities to get new products to market quickly.

With this partnership, BlackBerry will focus its resources to serve customers who value advanced security. In other words, we will continue to focus on what we do best – iconic design, world-class security, software development and enterprise mobility management.

With Foxconn's scale and efficiency, BlackBerry can also compete more effectively in other markets. The initial focus of the Foxconn partnership will be a smartphone for Indonesia and other fast-growing markets in early 2014.

We are working on recruiting a head of our Devices business and I look forward to introducing him to you soon. I am confident that he will continue to focus our teams on areas where BlackBerry can deliver maximum value to our customers.

Capitalizing on Opportunities

It's important to remember our operating units continue to have significant strengths and opportunities:

BlackBerry remains a leader in secure enterprise mobile device management, with a global enterprise customer base exceeding 80,000. We continue to work to shift this base to BlackBerry 10. BES 10 commercial and test server installs have increased to over 30,000, up from 25,000 in September 2013.
QNX is a leader in the automotive sector; its technology is used in more vehicle models (200+) and by more automakers and suppliers than all other platforms combined. QNX will unveil new technology in automotive and cloud services at the 2014 International Consumer Electronics Show in January.
BlackBerry is a pioneer in mobile messaging with BBM. With the launch of multi-platform BBM, we've seen over 40 million newly registered iOS/Android users. More than a dozen Android OEMs plan to preload BBM, including most recently LG. More importantly, as we focus on monetizing BBM, over 250,000 BBM Channels have been created by a global user base, including large brands such as Coke Indonesia and USA Today. BBM is also the most secure mobile messaging service for use in regulated enterprises.

We have also increased our cash position to $3.2 billion, meaning we have the ability to make strategic investments in areas where we think we can grow and profit.

Recharge

Turning a company around is hard work. I appreciate everyone's commitment over the last year and I ask that you continue to work together to help move BlackBerry forward. I know that if we focus on what's important and continually improve the way we approach our business, the quarterly results will take care of themselves. We're bringing together a solid leadership team and we're already making the kinds of changes necessary to move our business to profitability.

As we move into the holidays, I encourage you to enjoy some time with the people you care about and come back energized and focused in the new year. We have challenges ahead of us, but if we pull together and stay focused on our customers, we will succeed.

John

John Chen
Chairman and CEO
source:
WSJ