BlackBerry CEO says company will be back in the black by 2016
18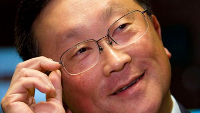 Following
this morning's announcement that BlackBerry took a large $4.4 billion loss
for its fiscal third quarter, CEO John Chen has made some very interesting comments. First, to review, the loss announced this morning includes a write down of $2.7 billion for unsold BlackBerry 10 models sitting in the warehouse. Since Chen has less than two months as CEO under his belt since taking over from Thorsten Heins, he cannot be faulted for these numbers.
As a further sign that BlackBerry 10 is just not connecting with consumers, of the 4.3 million handsets sold by the Canadian OEM in the last quarter, 3.2 million were models powered by the older BlackBerry 7 OS. Amazing, wouldn't you say? Revenue for the period dropped to $1.2 billion from $2.7 billion last year, and was a drop of 24% on a sequential basis.
But Chen might be ready to open up BlackBerry to turn the company around.. He talked about wanting to see the BlackBerry experience on iOS and Android, although he wasn't precise on what this means. He also talked about an upcoming BlackBerry handset coming next March or April that is codenamed Jakarta. Scheduled to launch in Indonesia first, this would be a BlackBerry 10 powered model and will offer 3G connectivity. If we didn't know better, we'd say that Chen has already
studied the open letter written to BlackBerry by analyst Brian Blair
. This model will be jointly developed by contract manufacturer Foxconn. The latter will handle inventory of the phone.
Chen also said that BlackBerry will focus on BBM. Earlier today, we told you how
BBM for iOS and BBM for Android will soon receive other features
that the service provides BlackBerry users, including BBM Voice, BBM Channels and BBM Video.
Trying to avoid layoffs, Chen states that BlackBerry will consider 2014 an investment year and he will try to prevent sacking employees by growing the company out of its current situation. He wants to build an enterprise sales force and believes BlackBerry will be cash flow neutral in 2015 and back in the black by 2016. This gives Chen the luxury of having a couple of years to try to find a successful game plan.
source:
NYTimes
, Crackberry (
1
), (
2
),
Engadget