BlackBerry Browser Battle: Torch 9800 vs. Bold 9650
This article contains unofficial information.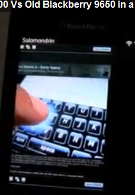 For years now, BlackBerry users would complain about the uselessness of the 'Berry Browser. Even when the Bold 9000 offered up major changes, the surfing experience on the device was not good. And when the Storm 9530 brought a touchscreen to BlackBerry for the first time, the results were a little better, but speed and features like tabbed browsing were lacking. Finally, RIM listened to customers and developed a WebKit browser (actually, they bought the company that developed it) that seemingly put the web browsing experience on par with the iPhone and Android. While that remains to be seen, the video below does show you the vast improvement between the WebKit browser on the new Torch Slider and the browser on the Bold 9650, a device that has been out for only 2 to 3 months, depending on which carrier you purchased it from.
The new software handles things like tabbed browsing which allows you to open multiple web pages at one time, and quickly go back and forth between them. Also, "Pinch-to-Zoom" is a feature of the browser, and pages automatically are refitted to match the width of the screen. That stops you from having to move from left-to-right while reading some sites. While the new browser might not be right at the same level as the one on Android or on the iPhone 4, or even on webOS devices, it is a big step forward for BlackBerry and BlackBerry users.
source:
Salomondrin