BlackBerry App World hits the 10,000 mark
2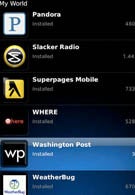 It's no secret that RIM has been seriously lagging in the app count when compared to Apple and Google, but if recent events are any indication, the company seems keen on making a comeback. In addition to the forward strides the company has recently made by launching App World 2.0 and BlackBerry OS 6, RIM has announced today via Twitter that over 10,000 applications are now available for download via BlackBerry App World.
For a little perspective, Apple's App Store currently offers about 250,000 titles, and the Android Market is pushing 100,000. Still, 10k isn't a trivial amount - and you can be fairly certain that RIM will be working hard to see that number increase significantly.
As we see it, RIM has faced two primary obstacles in the race for more apps. First, a huge number of BlackBerry users are on enterprise accounts and are unable to install 3rd party applications (an obvious deterrent for developers). Second, most BlackBerries have relatively small displays and no touchscreen - both of which play a big role in creating the engaging user experiences that developers have been able to design for iOS and Android. Of course, RIM's brand new BlackBerry Torch solves the latter problem with its 3.2" capacitive display - so we'll be interested to see how developers take advantage of the new hardware.
It's obvious that RIM has some hard work ahead if they hope to compete with the likes of Apple and Google - but hey, at least they're still beating webOS, right?
source:
IntoMobile