BlackBerry 10 to offer a Siri-esque virtual voice activated personal assistant?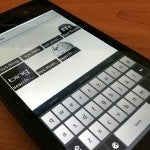 Just the other day,
RIM announced an update for the BlackBerry 10 Dev Alpha phone
. After the dust settled on the update, it was discovered that
RIM had added a voice activated personal assistant
similar to Siri. Right now, the personal assistant on the device is far from being a final build. Watching the video below, you can see that the system is still in beta and is not working too well at the moment.
is being built by Nuance
, the same company behind Apple's voice activated personal assistant. The video also shows universal search functionality for the new BlackBerry 10 OS. As long as it doesn't depend on the '604 so-called Siri patent
at the heart of the preliminary injunction on the Samsung GALAXY Nexus
(since
stayed
), this will probably make the final build of BlackBerry 10.
For those wondering if RIM is going to be able to compete with iOS and Android, it sure looks like the Canadian manufacturer is trying everything to at least match the features of its competition. That would be a big step forward for BlackBerry.
source:
N4BB
via
MobileSyrup