BlackBerry 10 L-S1 battery available for order on Expansys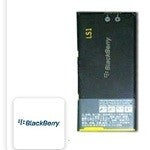 The BlackBerry 10 power source will not be as wimpy as the 1,230mAh unit in RIM's previous flagship, the Bold 9900/9930. Still, the 1,800mAh unit that will be on the forthcoming L-Series, or BlackBerry Z10, does have a few of us scratching our heads wondering how efficiently the new hardware will use the available power since we have grown accustomed to some serious sized cells in the new generation Android devices.
That is a bit of apples-to-oranges comparison, and always has been when it came to previous generation BlackBerry devices and their ability to sip on batteries for days in many cases. However, in the era of modern, multi-core processors, bright high-resolution screens, we must work with the reality of keeping a charged device.
sources:
Expansys
via
N4BB
and
NerdBerry