BlackBerry & iPhone handsets are contributing to the demise of feature phones?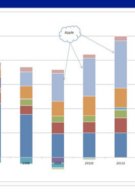 The landscape of the industry has changed heavily in the last few years as consumers have adopted high-end smartphones into their grasp and bypass the usual mix of feature phones available to them. Analysts at Deutsche Bank said in a recent report that Apple's iPhone and RIM's BlackBerry handsets are putting a strain on the once fledgling feature phone market that dominated the industry before the rise of today's modern smartphones. Even though RIM's and Apple's devices consist of only 10 percent of the market, the two combined make up approximately two thirds of all phone revenue – which means that the rest is reserved for the low-end, high volume devices.
Analysts at the bank said, "We think the change that Apple has forced on the industry continues to play out. Those mid-range feature phones used to be Samsung's and LG's bread and butter products upon which they built their operations. Those kinds of phones are vanishing from the shelves in the US, increasingly replaced by high-end smartphones subsidized down to mainstream prices." For a period of time, Motorola and Sony Ericsson relied heavily in the mid-range market, but recently we've seen their stance shift towards the smartphone market to stay not only competitive, but profitable as well. Some consumers see the value that smartphones have to offer and gravitate to them particularly because they recognize the wealth of features they have and their room for growth thanks to app development.
via
Electronista