Black is users' favorite color when it comes to phones, followed by white
18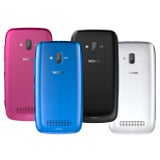 Now, that's not exactly what we'd call a surprise, but anyways, it appears that people's favorite color for a phone is... black. At least that is the conclusion we can make from our improvised survey of 2518 PhoneArena readers, which is actually not that bad of a sample.
So, we asked you earlier this week
which is your favorite color for a phone
, and black has won with a convincing 34.63% of all votes. Your second favorite color is white, which has gotten 23.55% of the votes.
Now that we've cleared these two most popular ones, it'd be very interesting to see how the remaining ones rank. According to the results of our poll, the third most attractive color for a phone is cyan (8.98%), closely followed by blue (6.87%), dark grey (6.71%) and red (6.39%). At the bottom of the chart are pink (1.23%), magenta (0.91%) and, finally, brown (0.64%).
Well, that's how your color preferences stand at the end of 2012, guys - mostly black, white and a bit of cyan. And what is the color of the device that you currently use?
Full results follow below!