Björk comes out with the world's first VR album with a trippy experience for the HTC Vive
9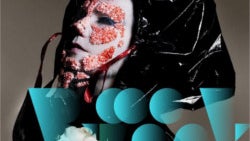 Björk is no stranger to mixing multimedia approaches and incorporating new technologies into her performances. Last year she released the
360-degree video for "Stonemilker"
and this year she's making her first true foray into VR. This time around, Björk aims to bring fans the raw beauty of her native Iceland through the power of the HTC Vive.
The
Björk Digital
exhibition launches on June 3 in Sydney, Australia. During the event, the singer will present her fourth VR video from last year's live album
Vulnicura -
the live album chosen for a trippy VR makeover. The exhibition will also put in motion an 18-month world tour by the same name. The singer posted this short teaser for the event on her Instagram profile:
Attendees of the
Björk Digital
exhibition will have the chance to experience the breath-taking beauty of Iceland, sprinkled with a healthy dose of Björk's trademark weirdness. This is what visitors can expect from the new project, according to the press release:
"The world premiere of Notget in VR combines high resolution 3D scans, on-location holostudio, motion capture and videogrammetry along with real-time special audio design that envelopes and embeds the user into Björk's performance. These digital assets are blended together to create an ever evolving and changing digital form of particles, light and sound that inhabits the space with you. Vive and its room-scale VR tracking capabilities has allowed the team to create a performance piece that reacts and connects with the users as they are encouraged to explore the large physical space, creating a deep connection that only could be achieved and experienced in VR."
Attendees will supposedly also have the chance to experience
Björk Digital
with Samsung Gear VR headsets.
Vulnicura
will eventually be available for download, though it's unclear when.
Recommended Stories