Bill Maher asks Siri for Valentine's Day tips, gets an attitude
3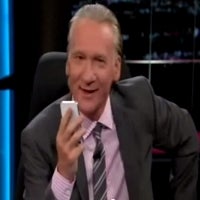 Comedian Bill Maher has apparently gotten an iPhone 4S as he recently started asking Siri for everything, including
the working conditions at Foxconn
.
In the latest "Real Time" show on HBO, he took out an iPhone 4S and started asking it about all the hypocrisy around Valentine's Day, with Apple's venerable personal assistant forced to answer some cynical truths by Bill's screenwriters.
The skit was inspired by two commercials, one with the swanky supermodel Adriana Lima aired during the Super Bowl, which we are embedding in full length below, and one cheapo local ad, that seem to imply direct exchange of gifts against "services" from your beau.
Bill Maher apparently wasn't entertained by what Valentine's Day is getting boiled down to, so watch his sarcastic take on the matter, this time involving Siri.