Big and bigger: Sony Xperia Z2 vs LG G Pro 2, first look
17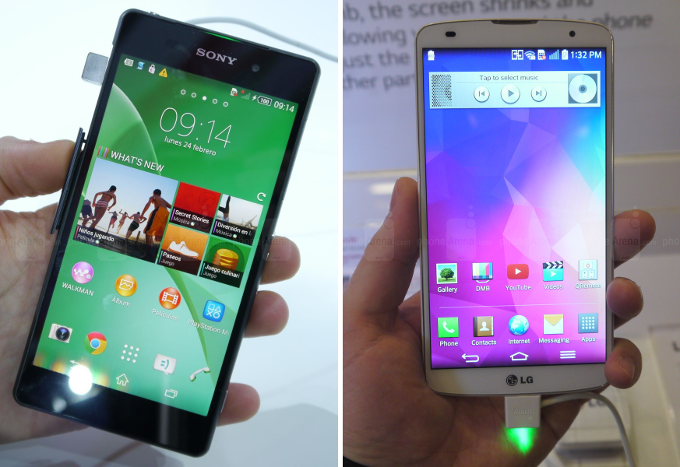 We're off to a good start with 2014, and nothing says so as much as the many brand-new flagships coming out from the various mainstream manufacturers. Japanese Sony, along with South Korean LG, have both been pushing out some truly amazing devices in a pretty quick succession this past year and a half, and while market response for those is rather small in comparison with the biggest out there, it hardly means they're inferior products.
Sony's new Xperia Z2, and LG's minty-fresh G Pro 2, are two devices that are sure to excite a great number of people enough for them to consider them both. But, put side by side, which one deserves to be picked more? Let's take a preliminary look.
Design
The Xperia Z2 doesn't try to evolve the OmniBalance design language at all, though that's not an altogether bad thing. Sure, we'd like to see something fresh from Sony, but there's no arguing the craftsmanship that went into creating the Xperia Z2. Its rectangular form gives it an upright look and feel. This is our typical stand-up guy -- there when you need him, but hardly the heart of the party. This notion is reinforced by the cold and unyielding glass that encases the Xperia Z2, front and back. To say that the Xperia Z2 is 'just' reliable would be an understatement, thanks to that dust- and water-proof, IP58 certification.
LG has gone down a different path with the G Pro 2. Sure, a lot about it reminds us of the LG G2, but it's more of an evolution of the design used with the company's flagship, rather than repetition, and that's despite the rear-placed power and volume keys. Speaking of the rear, we have a mesh-textured polycarbonate, which is not as fancy as the Z2's cool, industrial design, but is definitely friendlier. There's just more emotion in it.
In terms of size, the G Pro 2 is obviously the bigger device, but not by as much as one would think, considering the difference in display size between the two. Speaking of the display...
Display
Both the Xperia Z2 and the G Pro 2 come packing two gorgeous displays.
The Z2's smaller, 5.2-inch display has gone through some noteworthy changes on paper, and not just in terms of size. The 1080x1920
pixel
resolution screen (424 pixels per inch) is of the IPS LCD type, which is something of a milestone with Sony. The company's previous TFT Triluminos displays have been seeing a steady improvement, and the Xperia Z1 really showcased that, but they were still a notch behind the best IPS units out there. Judging from what we saw with our eyes, colors on the Z2 were more saturated, and blacks were, well -- blacks. Moreover, poor viewing angles are finally a thing of the past.
But the 5.9-inch display on the phablety G Pro 2 is definitely the more captivating, if only because of its sheer size advantage. It's actually less detailed, since its resolution of 1080x1920 works out to a lower pixel density figure: 373 ppi. Nevertheless, we were pretty satisfied with what the IPS panel showed us, and though we'll obviously wait for a review unit before calling it, we'd say that LG has worked its display magic with the G Pro 2 once again.
Interface and functionality
There's, once again, a stark difference between the approaches taken by Sony and LG, respectively. The Android 4.4 KitKat-based UI of the Xperia Z2 strikes us as the more balanced, and visually attractive of the two. Unlike the cartoonish elements of the LG's software, we're treated to a sleeker, more minimal interface with the Z2, and we just like it more in terms of overall looks. Sony has also added a few perks to the software, so that you can perform minor tweaks, like changing the color theme of the entire UI.
But it's LG that has gone farther with the amount of changes with the software on the G Pro 2. Despite being based on the same Android 4.4 Kitkat-build, the G Pro 2 is decidedly different. The skin that runs throughout the entire system is quite heavy, and we don't mean just performance here. A likely outcome of LG's rivalry with its neighbor, Samsung, and its TouchWiz overlay, we've consistently found areas that beg for improvement. Feature-filled doesn't always mean a better outcome, or that's at least how we reason.
Processor and memory
The Sanpdragon 800 processor on the LG G Pro 2 is, perhaps, the one thing that gives way to the Xperia's more potent Snapdragon 801 chip. Don't get us wrong, an Adreno 300 GPU and four Krait 400 cores clocked at 2.3GHz are no joke, but they're lacking the improvements that Qualcomm has added to its newer chip. According to the silicon slinger, compared with the Snapdragon 800, the Snapdragon 801's Krait 400 cores have seen a 14% improvement in performance, and that figure doubles with the Adreno 330 GPU, which saw a 28% boost. Also distinctive is the massive, 45% hike in camera sensor processing speed.
The memory department is a bit more identical. Both devices come with the whopping 3GB of RAM, but LG's device had 32GB of built-in storage, whereas the Z2 came with just 16GB (no word on whether other options will be available). Moreover, the version of the G Pro 2 that we handled (Korean) had a removable back with a slot for a microSD card, which is another omission on Sony's part with the Z2.
Camera
If we were to speculate, we'd say that the cameras on the Xperia Z2 and the G Pro 2 will be neck-and-neck. Sure, the 20.7-megapixel Exmor RS sensor of the Z2 sounds quite massive, and the software behind is more than capable, but we've come to expect excellent photographic chops from the latest crop of LG flagships. The G Pro 2's inferior-sounding 13-megapixel rear shooter, for example, comes with an improved OIS+ tech, which has been hopefully perfected.
Both devices can do 4K video, and they're also capable of shooting in 120 frames per second for the occasional slow-mo clip. For its part, Sony has added the TimeShift and AR (Augmented reality) features to the arsenal of the camcorder, while LG focused on stills, with features such as Natural Flash and Magic Focus. The former essentially snaps two photos in nighttime scenarios -- one with flash, and one without -- and then software uses a complex algorithm to merge data from both, in order to arrive at a more balanced result (i.e. less cold). Magic Focus takes several snaps with different focus settings, so that you can then change the background focus for a bokeh effect, if you're so inclined. Sony's Background defocus feature appears to work in much the same way.
Expectations
We expect both devices to receive favorable market response, and while Sony's faithful followership will surely make a dent with Xperia Z2 purchases, we're kind of interested to see how the LG G Pro 2 will do. This is because Asian markets, where the G Pro 2 will also be sold, go bananas when they catch a whiff of an elegant device in a larger form factor. And as for our stand-off in particular, we've got to admit that Sony's new torch-bearer definitely wins on paper, thanks to its more impressive-sounding camera and newer processor. As always, however, we ain't calling this until we get our hands on final, retail units and have them jump through a great many hoops.