Beyond 2K: 14 wallpapers worthy of your Quad HD smartphone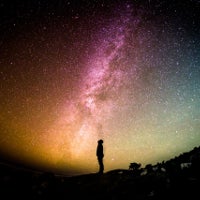 Whether you're a wallpaper junkie that needs a hit at least twice a week, or just interested in trying out something new, your experience could easily end up being compromised by less than honest wallpaper repositories that seemingly have walls in each and every possible resolution. While that's not impossible, it's also rather unlikely, and probably means that a standard, 1080 x 1920 resolution background has been up-scaled to get your click. Since our smartphones nowadays rock resolutions as high as Quad HD (1440 x 2560 pixels), we thought we'd do something about that.
Ever since, our biweekly column has been focused on providing you royalty- and attribution-free wallpapers that you can make use of without worrying. Best of all, you can trust that the works you're getting haven't been tampered with, and are in their native resolution. In some cases, that native resolution is so high that even your Quad HD smartphone is incapable of displaying all the detail available in the file. For example, this week's largest wallpaper is
24 megapixels
large. That's 6000 x 4000 pixels. Crazy.
As always, the images available in the below gallery have been re-sized to save you both time and bandwidth (100MB > 2.6MB). If you spot something you like, head over
HERE and download the original file
.