Best waterproof and rugged tablets: here's which devices are not afraid to be soaked to the "skin"
17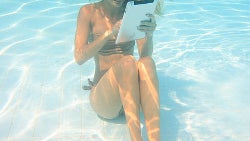 One of the main trends that we witnessed in 2014 was the serious onslaught of water-proof gadgets. A wide array of the more trend-setting and popular devices, the flagship ones, were protected from water and dust.
It comes without saying that one normally wouldn't regard this type of protection until their phone (somehow) pops from their pockets and sinks like the Titanic.
Some phones will survive such an ordeal just fine, but what about their bigger-sized cousins, the tablets?
Certainly, if one wants to lay their hands on a rugged slate which will withstand an occasional dip in the pool or a "regular" sand storm, they have certain options. Then again, it looks like there are way more water-tight smartphones than tablets, at least for now. We decided to make a summary of the rugged slates that can be found on the shelves.
Panasonic Toughpad FZ-E1
Panasonic has a history of tough tablets, and one of their newest, the
LTE-enabled Toughpad FZ-E1
, is yet small-sized device that proves this. It's a relatively compact 5" tablet that is as rugged as it gets - it is water-, dust-resistant, and shock-proof. It runs on Windows Embedded 8 Handheld and has a 6,220mAh hot-swappable battery. A tough nut to crack.
Panasonic Toughpad FZ-M1
Meet the bigger brother of the FZ-E1, Panasonic's bigger FZ-M1. With a display size of 7 inches, it's the largest and most-rugged Windows-powered (Windows 8.1 Pro 64-bit, to be exact) tablet you can find at the moment. It's MIL-STD-810G and IP65-certified, which means that it might be a true companion for that hiking trip you've been planning for ages.
Fujitsu Tablet Stylistic Q584
If you're looking for a Windows-powered tablet with water-proof capabilities, Fujitsu's got you covered. Its 7", LTE-enabled Stylistic Q584 is a water-/dust-proof hybrid slate, which can be used either as a slate or easily transform to a laptop (thanks to a keyboard that is being sold separately).
Sony Xperia Z3 Tablet Compact
Sony's newest tablet is not only one of the most compact 8-inchers in the world, it was also boasted as being the most-rugged tablet in the world. Surely, the
Z3 Tablet Compact
will be your best bet if you intend to binge-watch Breaking Bad while skinny dipping in your pool.
Sony Xperia Z2 Tablet
If the specs sheet of the Xperia Z3 Tablet Compact has caught your eye, but you're secretly longing for something a little bigger, then Sony's previous slate, the 10.1-inch
Xperia Z2 Tablet
should be somewhere near the top of your wishlist. However, it has a slightly-lower water-resistance capabilities than the Z3 Tablet Compact, mind you!
Sony Xperia Tablet Z
Let's not forget about one of the progenitors of both the Xperia Z3 Tablet Compact and the Z2 Tablet, Sony's
Xperia Tablet Z
. Although it's already a bit dated, you'll have nothing to worry about if you drop it in the bath. Thanks to its 10.1" silhouette, you can even use it as an umbrella and shield yourself from the pouring rain outside.
Samsung Galaxy Tab Active
Although it's not still out on the market, Samsung's first rugged tablet, the
Galaxy Tab Active
, deserves a honorable mention in this list. Apart from being water- and dust-resistant (it's IP 67-certified), Sammy's foray into durable Android slates is also shock-proof. Reportedly, it will withstand drops from up to 1.2 meters.